Padilla, Bauer-Kahan Host Virtual Event Highlighting New 9-8-8 Suicide and Crisis Lifeline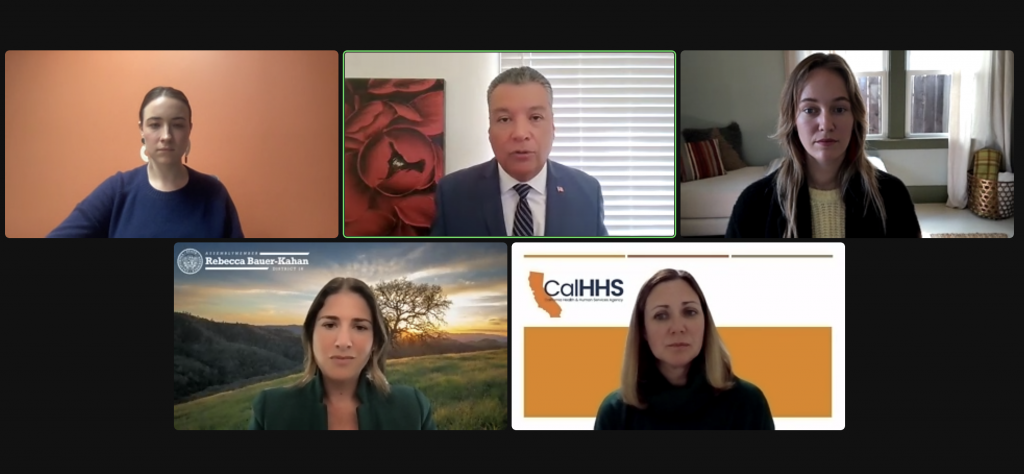 CALIFORNIA — U.S. Senator Alex Padilla (D-Calif.) hosted a virtual event today alongside California Assemblymember Rebecca Bauer-Kahan and state mental health experts to celebrate the establishment of the new 9-8-8 Suicide and Crisis Lifeline with the recent signing of California Assembly Bill 988, which will provide enhanced resources to the state to help combat its rising mental health crisis.
Padilla and Bauer-Kahan were joined by leaders from the California Health and Human Services Agency, the Steinberg Institute, and The Kennedy Forum for this conversation about mental health resources coming to California.
"For years, we've been fighting to end the stigma around mental health care, and to get Californians the support they need. 9-8-8 is a national suicide and crisis lifeline that launched last summer to help anyone in California and across the country get connected to resources," said Senator Padilla. "If you're experiencing mental health-related distress, or if you're worried about a loved one who may need help, by calling 9-8-8 you'll be connected with a trained mental health professional. This accessible care will save lives. We're making big progress, but it's clear this fight is not over— we need to do more to help low-income and underserved communities, especially for the schools and students who still lack the resources they need."
"988 reimagines the mental health crisis response system in California," said Assemblymember Bauer-Kahan (D-Orinda). "I'm grateful to champions on the federal level like Senator Padilla for partnering to make 988 a reality. This work will save lives."
"The transition to 9-8-8 represents an unprecedented opportunity to improve behavioral health crisis prevention, response, and stabilization across the nation and in California. This easy to remember three-digit number is a catalyst for change and offers the potential to foster a strengthened infrastructure and promote policies and practices that will allow providers to respond to all behavioral health crises, inclusive of suicidality, mental health crises, and substance use disorder crises, for all persons across developmental ages," said Stephanie Welch, Deputy Secretary of Behavioral Health, California Health & Human Services Agency. "California stands ready to do the hard work needed to build out the capacity to achieve the vision set out in 9-8-8."
"No matter your situation, your insurance provider, or your location, quality and accessible mental health care should be there for you when you need it. AB 988 is a huge, leading step forward in accomplishing just that," said Lauren Finke of The Kennedy Forum. "Not only does AB 988 set a precedent in crisis response, it sets a precedent in crisis coverage. Behavioral health crisis services are emergency services and should be covered equally to physical health emergency services. California has seized the opportunity that the launch of 988 presented – other states should follow suit to build out their systems of crisis response and care."
"California has once again proved we are a leader in mental health reform," said Tara Gamboa-Eastman, Senior Advocate at the Steinberg Institute. "By passing AB 988, the state has become only the 5th to pass legislation to implement and sustainably fund the new mental health crisis line. Now, Californians in crisis can take heart knowing that thanks to AB 988 there will always be help on the other side of the phone."
To date, Congress has provided over $15 billion to California through the American Rescue Plan—which Padilla supported—to help California school districts respond to the educational challenges caused by the pandemic.
Senator Padilla has prioritized the fight to address California's mental health crisis in Congress and has introduced legislation including the Comprehensive Mental Health in Schools Pilot Program Act to fund pilot programs in primary and secondary schools to address mental and behavioral health issues and implement intervention programs for students. It would also prioritize funding for mental health programs for the most underserved schools across the country.
A recording of the event is available for download here.
###