Padilla Announces Legislation to Broaden Access, Improve Equity Within School Mental Health Programs in Light of COVID-19 Pandemic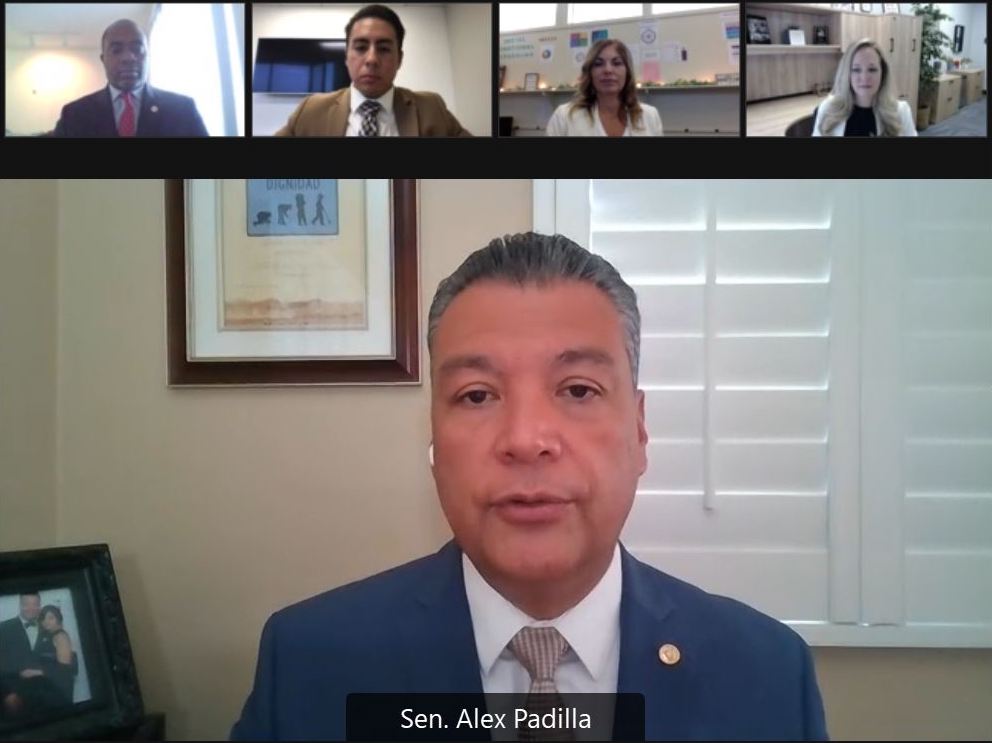 WATCH: Senator Padilla announces legislation to address mental health in schools
WASHINGTON, D.C. ­– As millions of children return to their classrooms for in-person learning, U.S. Senator Alex Padilla (D-Calif.) today announced the introduction of the Comprehensive Mental Health in Schools Pilot Program Act during a press conference with California State Superintendent of Public Instruction, Tony Thurmond, as well as local leaders, mental health experts, and educators.
The legislation would fund pilot programs in primary and secondary schools to address mental and behavioral health issues and implement intervention programs for students. It would also prioritize funding for mental health programs for the most underserved schools across the country. Similar legislation was introduced in the U.S. House of Representatives by Congressman David Trone (D-Md.).
A 2021 report from Mental Health America indicates that more people are reporting frequent thoughts of suicide and self-harm than have ever been recorded. The U.S. Centers for Disease Control and Prevention reported that last year, as compared with April – October 2019, the proportion of mental health–related emergency department visits for children aged 5–11 and 12–17 years increased approximately 24 percent and 31 percent, respectively. The effects of increased learning loss, social isolation, uncertainty, and trauma may not manifest for years, and schools must be prepared to deal with this in a preventative, comprehensive, and long-term fashion.
The Comprehensive Mental Health in Schools Pilot Program Act would help address this by directing the Secretary of Education to establish a $20 million 4-year pilot grant program to help schools address mental and behavioral well-being.
"As the father of three young boys returning to school for the first time in over a year, I understand firsthand how important it is that our children have the support necessary to seamlessly return to school," said Senator Padilla."The stresses and anxieties caused by the pandemic are still very much with us, and even more so with our children. Sadly, these realities are even more severe for low-income communities and communities of color, which often have fewer resources to address mental health issues. This bill would prioritize funding for high-poverty school districts throughout America."
"With mental health declining at an astounding rate, we need to act fast to ensure our children get the mental health care they desperately need," said Representative Trone. "This program will put preventative measures in place, deliver more resources for support, and ensure that low-income students have access to treatment. I'm proud to be introducing the Comprehensive Mental Health in Schools Pilot Program Act, and I truly believe we will be making a difference in the lives of those who are most in need."
"It is with great honor that I support U.S. Senator Padilla's 'Comprehensive Mental Health in Schools Pilot Program Act of 2021.' As California State Superintendent of Public Instruction, I share Senator Padilla's priority in addressing student mental and behavioral well-being, especially during these challenging times," said Superintendent Thurmond. "Senator Padilla's bill is a foundation that will give our students, especially our most vulnerable, the multi-tier support they need to be safe and to thrive in the classroom. I hope that California can leverage the funding in Senator Padilla's legislation with the Mental Health Coalition that I recently created in California to ensure all partners are working together to develop a network of support and increase student access to mental health/wellness supports. I am looking forward to partnering with Senator Padilla and others to ensure that concrete action continues to be taken towards addressing student mental health."
"Children are experiencing more mental health challenges than ever. They need help—and families don't know where to turn because the help just isn't there," said Jessica Cruz, CEO of NAMI California. "That's why we're grateful to Senator Padilla for introducing legislation that would provide grants for school mental health services that help children when and where they need it."
"This bill sheds light on a critical gap in our education system," said Amy Hernandez, Wellness Coordinator for Pioneer High School at San José Unified School District. "Students learn to read and write, learn about history and science, and practice music or art, but they don't have a place to learn where to go for help and how to ask for help when they are struggling. Mental health centers in schools teach students how to become self-aware of their thoughts and feelings and how to use coping mechanisms when they face adversity. A 20-minute break in a safe place has the power to change the day's entire trajectory for a student who is struggling."
The Comprehensive Mental Health in Schools Pilot Program Act is supported by the American Psychological Association, American Academy of Pediatrics, National Alliance on Mental Illness California, Committee for Children, Collaboration for Academic, Social & Emotional Learning, American Educational Research Association, National Association of School Psychologists, The National Association for Behavioral Intervention and Treat Assessment, Nemours Children's Health System, Eating Disorders Coalition for Research, Policy & Action, REDC Consortium, Sandy Hook Promise, the Jed Foundation, and Blue Shield of California.
"The American Psychological Association applauds Senator Padilla for introducing this critical legislation that acknowledges the interactive relationship among the cognitive, social, emotional and academic development of children and the importance of fostering positive, equitable classroom climates," said Arthur C. Evans Jr., PhD, CEO of the American Psychological Association. "By providing training for educators and other school staff on evidence-based, trauma-informed practices, and ensuring that the overall well-being of students is the responsibility of the entire school community, the Comprehensive Mental Health in Schools Pilot Program Act recognizes the role that psychological science plays in student learning and mental health."
"This bill represents an excellent opportunity to support evidence based, systemic SEL in support of positive outcomes for all children and communities. CASEL believes SEL can support safe and healthy learning environments," said Collaboration for Academic, Social, and Emotional Learning (CASEL)
"The American Educational Research Association SEL Special Interest Group is proud to endorse the Comprehensive Mental Health in Schools Bill. This proposed legislation speaks directly to the critical areas of need in our nation's school communities. In the absence of systematic and sustainable supports for schools, the wildly diverse and deeply tragic lived experiences of the pandemic and losses within loss of life, security, routine, and community- can continue to exacerbate inequities and disrupt teaching, learning and thriving when all was already interrupted. At the AERA SEL SIG we are hopeful that the recommendations for sustainable investments in the social and emotional health and wellness of students and their teachers and families will provide the necessary prioritization of training, support staff, and resources to equitably support school community thriving hereafter," said American Educational Research Association
"As a leading nonprofit that exists to protect emotional health and prevent suicide for our nation's teens and young adults, The Jed Foundation is well aware that, even before the COVID-19 pandemic, our youth are experiencing rising mental health challenges, but that, through schools, we can provide comprehensive mental health safety nets that help promote mental health, recognize students who are struggling and to connect them to effective mental health care," said John MacPhee, CEO of The Jed Foundation. "That is why we are grateful for the leadership of Sen. Padilla and the supporters of the Comprehensive Mental Health in Schools Pilot Program Act, and why we wholeheartedly endorse the bill and call for its quick passage."
"This bill recognizes the need to approach student mental health in a comprehensive way and emphasizes prevention by putting evidence-based social-emotional learning at its core," said Andrea Lovanhill, CFC and CEO of Committee for Children. "It will help millions of students develop coping and communication skills, stress-management techniques, and emotion identification and management methods. Ultimately, it equips young people with tools and resources to address mental health challenges before they arise. Committee for Children is proud to support this bill."
The Comprehensive Mental Health in Schools Pilot Program Act would address mental and behavioral well-being by:
Instituting multi-tier interventions to help educators address academic and behavioral needs and foster positive learning environments;
Using evidence-based materials and integrating social and emotional learning skills and competencies at school, including by providing professional development opportunities for school staff on integrating motivation, engagement, and resiliency training into classroom instruction; instituting racially, culturally, developmentally, and linguistically responsive teaching; providing agency to students; and understanding the impact of adverse childhood experiences on student health and development;
Eradicating punitive disciplinary practices by adopting restorative policies;
Establishing racially, culturally, and linguistically appropriate trauma-informed practices;
Hiring more school-based mental and behavioral health professionals.
The full text of the bill is available HERE.
A summary of the legislation is available HERE.
A recording of the press conference is available HERE.
###