WATCH: Padilla Highlights Bipartisan Infrastructure Bill and Supply Chain Impacts at California Ports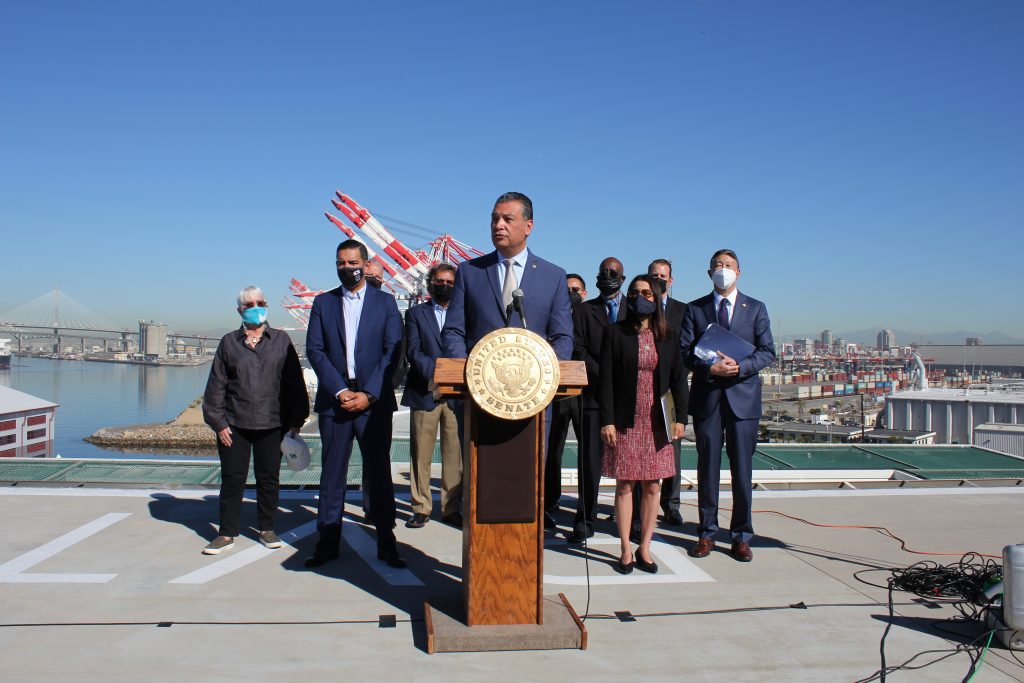 LONG BEACH, CA — Today, following the recent passage of the bipartisan Infrastructure Investments and Jobs Act in Congress, U.S. Senator Alex Padilla (D-Calif.) received a joint briefing from the Ports of Los Angeles and Long Beach along with CalSTA Secretary David S. Kim, U.S. Congressmember Nanette Barragan, Mayor of Long Beach Dr. Robert Garcia, local labor leaders, and representatives from the ports. Click here to download video of the press conference.
The Senator highlighted how the Infrastructure Investments and Jobs Act will benefit California's ports and waterway infrastructure and improve supply chain resiliency, as well as the Biden administration's recent announcement of a multi-billion dollar plan to accelerate investment in our ports, waterways, and freight networks.
"The global ongoing pandemic has exposed the importance and the urgency of modernizing our port infrastructure, and shipping backlogs have also created ripple effects for businesses, for consumers, and for local communities," said Padilla. "Now in my first year as a member of the U.S. Senate, I've been proud to advocate for the funding and resources that our ports need, including securing investments in the historic bipartisan infrastructure bill that President Biden will sign this coming week.
"The bill will invest 17 billion dollars in ports and waterways across the country to help build resiliency in our supply chain for decades to come. It will decrease the environmental impact of ports, with funding for electrification and zero-emission technologies. And it will create worker training programs to support the essential workers, federal government recognized essential workers, who keep our goods moving. We have a historic opportunity to electrify—to decarbonize—and promote environmental justice in our supply chains, and all of these leaders standing here together will continue to collaborate to do just that and in so doing address both short-term and long-term difficulties impacting the supply chains."
The Ports of Los Angeles and Long Beach handle an estimated 40 percent of the container traffic that enters the United States. Senator Padilla has consistently advocated for funding for port infrastructure and recently spoke with Transportation Secretary Pete Buttigieg in support of the innovative partnership between the State of California and the U.S. Department of Transportation to help strengthen our supply chain with multi-billion dollar infrastructure improvements in California designed to improve the capacity and resiliency of the goods movement chain.
The bipartisan Infrastructure Investment and Jobs Act is the largest investment in our nation's infrastructure in nearly a century. It will provide approximately $17 billion for port and waterway infrastructure, and $5 billion for the Consolidated Rail Infrastructure and Safety Improvement program to improve the safety, efficiency, and reliability of freight and intercity passenger rail across the country. Senator Padilla is also advocating for investments in the Build Back Better Act to address the environmental impact of supply chain activities in nearby communities, including $3.5 billion for port electrification and decarbonization as well as $3 billion in environmental justice block grants.
Earlier this week, the Biden-Harris Administration announced additional steps to mobilize federal agencies and lay the foundation for the successful implementation of the historic Infrastructure Investment and Jobs Act. The U.S. Department of Transportation will allow port authorities across the country to redirect project cost savings toward tackling supply chain challenges. More information on the announcement is available here.
Watch the Senator's remarks here in English and Spanish.
###