Padilla Pushes to Protect Abortion Rights During Planned Parenthood Visit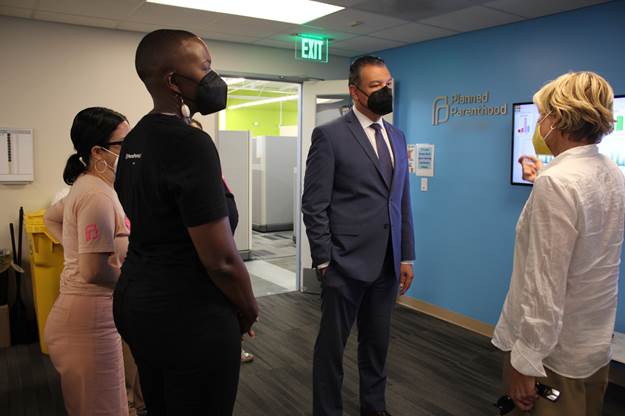 LOS ANGELES, CA — Today, U.S. Senator Alex Padilla (D-Calif.), member of the Senate Judiciary Committee, visited the Planned Parenthood Los Angeles headquarters to meet with volunteers, advocates and workers, and highlight his efforts to protect essential reproductive health care in the wake of the Dobbs decision. Padilla was joined by Sue Dunlap, President and CEO of Planned Parenthood Los Angeles and Celinda Vazquez, Chief External Officer of Planned Parenthood Los Angeles. The visit comes as nearly half of states across the country continue to restrict access to reproductive care.
"I am grateful for the tremendous level of dedication and care that Planned Parenthood Los Angeles offers to the surrounding community," said Senator Padilla. "However, across the country women continue to experience the harmful and, in many cases, deadly consequences of a post-Roe America. In the face of unending attacks on reproductive freedom, we will not give up the fight to protect a woman's right to safe abortion access."
"We want to extend our sincere thanks to Senator Padilla for stopping by Planned Parenthood Los Angeles to see the importance of our work first hand. Senator Padilla is a long time champion for reproductive health care and access to safe and legal abortion and we're thankful for his continued advocacy in this critical moment where people from all walks of life are looking to California to lead." Celinda M. Vazquez, Chief External Affairs Officer, Planned Parenthood Los Angeles.
Senator Padilla is a champion for reproductive rights and is a cosponsor of the Women's Health Protection Act, which would guarantee access and the right to provide abortion services in the United States. Most recently, Padilla joined his colleagues in introducing the Freedom to Travel for Health Care Act of 2022, legislation that would make it clear that it is illegal for anti-choice states to limit travel for abortion services and would empower the U.S. Attorney General and impacted individuals to bring civil action against those who restrict a person's right to cross state lines to receive legal reproductive care.
Padilla also successfully secured commitments from SafeGraph and Placer.ai, two data brokers, to permanently stop selling the location data of people who visit abortion clinics. This month, he also urged President Biden to prioritize health equity for people of color, and low-income, immigrant, and tribal communities in any executive actions to address the recent Dobbs decision.
###