Padilla Joins VA Leadership and San Fernando Valley Veterans for Mental Health Roundtable at Sepulveda Campus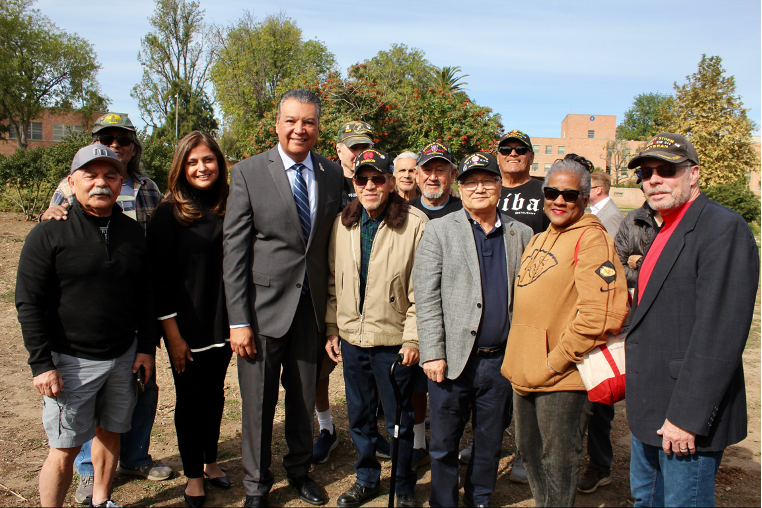 LOS ANGELES, CA — Ahead of Veterans Day, U.S. Senator Alex Padilla (D-Calif.) joined local veterans and leadership at the Sepulveda VA Ambulatory Care Center for a roundtable discussion on mental health and a walk-and-talk tour of the facility. His visit included a meet-and-greet with veterans receiving care at the Sepulveda campus and a tour of the Veterans Affairs (VA) outdoor track renovated by Operation PTSD, a non-profit dedicated to increase mental health and well-being for veterans.
During the event, Senator Padilla discussed the recent launch of his bipartisan Senate Mental Health Caucus, which will serve as a forum for Senators to collaborate on and promote bipartisan legislation and solutions to our mental health crisis, hold events to raise awareness of critical mental health issues, including among our veterans, and destigmatize mental health.
"With far too many veterans losing their lives every single day to mental health issues, we have a responsibility to step up for those who served us — not just on Veterans Day, but year-round," said Senator Padilla. "That's why I founded the bipartisan Senate Mental Health Caucus, which will seek to expand the mental health workforce, improve the quality of mental health care, and share resources to support all Americans, including our veterans. I'm committed to honoring the brave women and men who have served our nation with action."
"We serve Veterans the benefits they've earned and deserve by providing high quality, accessible physical and mental health care in a safe, secure environment," said Rob Merchant, interim medical center director, VA Greater Los Angeles Healthcare System. "Along with primary care services at the VA, we work through partnerships with community care providers and local stakeholders to achieve that goal and we will continue to appreciate and support their efforts in assisting our mission to deliver the highest standard of care to Veterans."
Mental health issues are especially prevalent among veterans: on average, around 17 veterans die by suicide every day. The Senate Mental Health Caucus will support programs like the 9-8-8 Suicide and Crisis Lifeline, including the Veterans' Crisis Line, which has proved to be lifesaving by connecting veterans and their families to qualified and caring VA responders.
Senator Padilla has been a strong advocate for protecting the physical and mental health of our veterans. Earlier this year, he introduced legislation to help improve access to mental health care for the children of military families by establishing routine mental health and well-being checkups in military schools. Last week, the Senate unanimously passed his bipartisan Wounded Warrior Access Act, whichwill streamline veterans' access to their benefit claim files by requiring the VA to establish and maintain a secure online tool or website to enable veterans to receive their claim files electronically. He and Representative Mark Takano (D-Calif.-39) also hosted a roundtable conversation with local veterans highlighting the Honoring our PACT Act, which expands VA benefits to those exposed to toxic substances, ahead of the deadline for backdated compensation.
###