Padilla Joins Union Workers in the Central Valley to Push for Federal Heat Stress Protections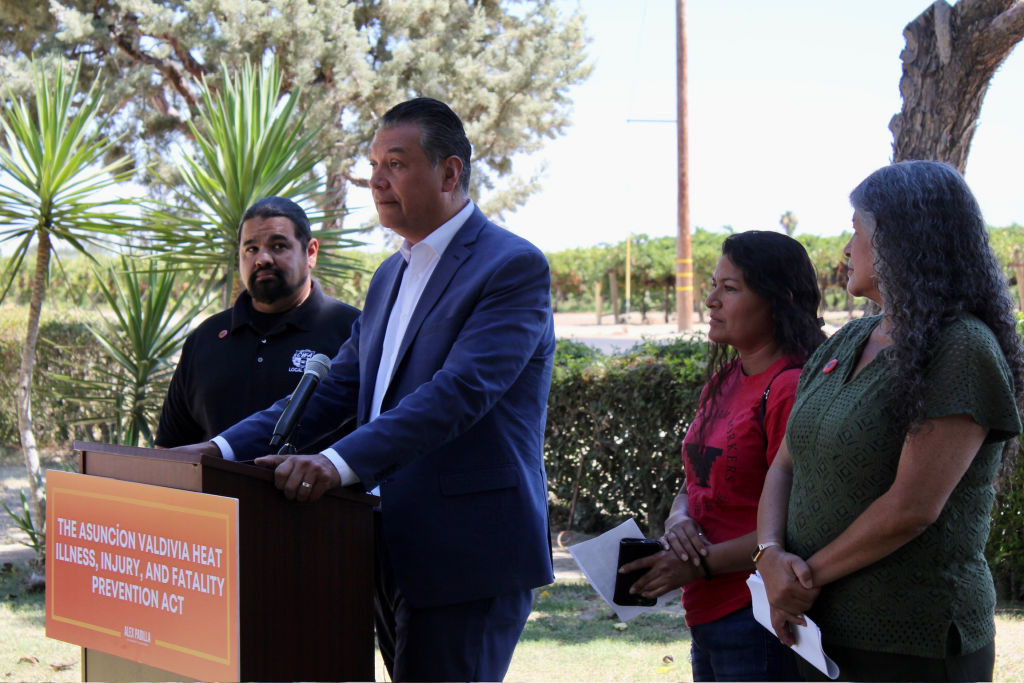 BAKERSFIELD, CA — Today, following a week of extreme heat advisories and temperatures over 105 degrees in the Central Valley, U.S. Senator Alex Padilla (D-Calif.) joined union members and workers from the United Farm Workers (UFW) and the Kern, Inyo, and Mono Counties Central Labor Council, AFL-CIO to announce his legislation to implement an enforceable federal workplace heat standard. Last month was the hottest month on record, putting 170 million Americans under extreme heat alerts and creating increasingly dangerous and life-threatening conditions for workers.
During his visit to Forty Acres, Padilla heard directly from workers about their experiences with heat stress in the workplace. The Senator discussed his recently introduced bill, the Asunción Valdivia Heat, Illness, Injury and Fatality Prevention Act, which aims to protect the safety and health of workers who are exposed to dangerous heat conditions in the workplace. The legislation is named in honor of Asunción Valdivia, a California farm worker who died in 2004 after picking grapes for ten hours straight in 105-degree temperatures.
"It's long past time we step up to protect both indoor and outdoor workers who are facing increasingly severe temperatures and stifling heat waves," said Senator Padilla. "Every day that we fail to act is another day someone risks their life to provide for their family. That's why I'm introducing the Asunción Valdivia Heat, Illness, Injury and Fatality Prevention Act to protect workers in high-heat environments by requiring common sense safety protections like access to water and shade, paid breaks in cool spaces, and more."
"This is such important work. We need federal protections for workers to protect their health and their lives. We know what it takes to keep workers alive. They need cool water, they need shade, they need paid rest breaks to let their bodies cool down. It's that simple. Cool water, shade, paid rest breaks. They need information on the risks and how to protect themselves. And they need their employers to provide emergency care and to call 911 when someone starts to get sick. They need to be valued not just for the work they do, but for who they are. Their lives are precious," said Teresa Romero, UFW President.
"The California Asunción Valdivia Heat Illness and Fatality Prevention Act is an extraordinary step towards prioritizing the safety and welfare of workers within labor unions. Through its stringent regulations, collaborative approach, and recognition of the challenges faced by outdoor workers, this Act brings us closer to creating a safer and healthier work environment for all. Let us lend our unwavering support to this transformative legislation, standing together with labor unions to safeguard the lives and well-being of our invaluable workers," said Tania Salinas, President of the Kern, Inyo and Mono Counties Central Labor Council, AFL-CIO.
Senator Padilla has acted swiftly to address the threats posed by extreme heat as the climate crisis becomes more severe. Padilla and his colleagues recently led one-hundred and twelve members of Congress to call on the Biden Administration to implement an Occupational Safety and Health Administration (OSHA) workplace federal heat standard as quickly as possible. The letter urges OSHA to model the federal standard after the provisions in Padilla's Asunción Valdivia Heat Stress Injury, Illness, and Fatality Prevention Act. He also recently co-led the introduction of the Preventing Health Emergencies and Temperature-related (HEAT) Illness and Deaths Act with his colleagues to address the rising health risks of extreme heat, including the establishment of a $100 million federal financial assistance program to fund community projects that reduce the health impact of extreme heat events.
Workers can file confidential complaints to Cal/OSHA by calling (833) 579-0927 and by visiting the Heat Illness Prevention resource page.
You can view the press conference HERE.
Full text of the Asunción Valdivia Heat Stress Injury, Illness, and Fatality Prevention Act is available here.
###