Padilla, Ross Introduce Bipartisan Legislation to Protect Documented Dreamers from Deportation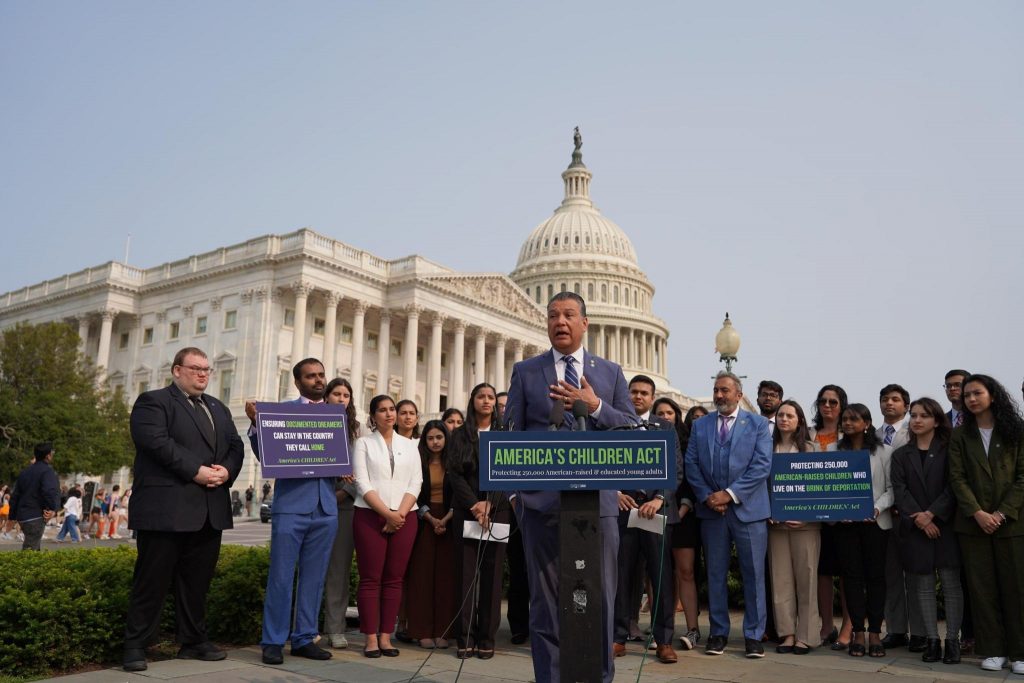 WASHINGTON, D.C. — U.S. Senator Alex Padilla (D-Calif.), chair of the Senate Judiciary Subcommittee on Immigration, Citizenship, and Border Safety, and U.S. Congresswoman Deborah Ross (D-N.C.) hosted a press conference to announce the reintroduction of the bipartisan America's CHILDREN Act. The legislation would protect the 250,000+ Documented Dreamers—children of long-term visa holders—living in the United States. The press conference featured a group of Documented Dreamers visiting Capitol Hill, who explained the hardships they continue to face as a direct result of our outdated immigration system. In addition to Padilla, the Senate version of the bill is cosponsored by Senators Rand Paul (R-Ky.), Richard Durbin (D-Ill.), Susan Collins (R-Maine), Kevin Cramer (R-N.D.), Angus King (I-Maine), and Kyrsten Sinema (I-Ariz.).
During the press conference, several Documented Dreamers shared their testimonies with the lawmakers. Among them were Merry Joseph, a third-year medical student at the University of Utah Spencer Fox Eccles School of Medicine; Muhil Ravichandran, a graduate of Rutgers University in New Jersey facing the possibility of forced self-deportation; Laurens Van Beek, who self-deported last July after not being selected for the H1B lottery; and Dip Patel, founder Improve the Dream.
"These Documented Dreamers are Americans in every way except one: their parent's green card is tied up in red tape," said Senator Padilla. "This legislation is about more than just immigration reform—it's about righting a moral wrong that's a byproduct of our outdated immigration system. My bill would prevent these young people from 'aging out' of their parents' visa when they turn 21, and create additional green card opportunities for Documented Dreamers. I urge my colleagues to stand up and do the right thing for these hundreds of thousands of young people."
"These children who have legally called the United States home for many years and even decades, are contributing members in our communities and to our economy. They shouldn't be penalized by the government's failures in addressing green card backlogs," said Dr. Paul (R-Ky.). "The America's Children Act provides targeted relief for these children of merit-based immigrants who are at risk of "aging out" of their lawful immigration status, and I'm pleased to join Sen. Padilla in introducing this bill."
"Documented Dreamers grow up in our communities, attend our schools, and learn alongside our children," said Congresswoman Ross. "These inspiring young people represent the very best of America. It's long past time that we address flaws in our broken immigration system and give Documented Dreamers the chance to stay in the country they love and call home. That's why I'm proud to join my colleagues in both chambers and on both sides of the aisle in introducing legislation to finally give them the future they deserve."
"We are grateful for Representatives Ross, Miller-Meeks, Senator Padilla and Senator Paul for championing and reintroducing America's Children Act," said Dip Patel, founder of Improve the Dream. "Fixing this loophole will ensure that America reaps the benefits of the contributions of the children it raised and educated. Ending aging-out will empower people to tap into their talents and ambitions, helping us and our country reach our fullest potential. And that won't be possible if we continue to waste the product of our country's investments, by forcing thousands of American-raised and educated children to leave every year."
Senator Padilla is a strong advocate for immigration reform. As chair of the Senate Judiciary Subcommittee on Immigration, he held a hearing to examine how our immigration system is failing to meet the needs of the 21st century, including for Documented Dreamers. He has also cosponsored the U.S. Citizenship Act, legislation to overhaul the American immigration system, restore fairness and humanity to the system, strengthen families, boost our economy, and open a pathway to citizenship for millions. Padilla also led a letter to the Department of Homeland Security (DHS) requesting that the agency expand the DACA threshold criteria to include Documented Dreamers.

The lawmakers are introducing this bipartisan legislation amid growing calls for Congress to advance commonsense immigration reforms. In addition to Ross, the legislation is cosponsored in the House by Representatives Mariannette Miller-Meeks (R-Iowa), Raja Krishnamoorthi (D-Ill.), and Young Kim (R-Calif), Maria Elvira Salazar (R-Fla.), Brian Fitzpatrick (R-Pa.), Ami Bera (D-Calif.), Ashley Hinson (R-Iowa), John Duarte (D-Calif.), Darren Soto (D-Fla.), Suzan DelBene (D-Wash.), Don Bacon (R-Neb.), Greg Stanton (D-Ariz.), Nancy Mace (R-S.C.), Steve Womack (R-Ark.) and Valerie Foushee (D-N.C.).
Full text of the bill can be found here.
###