Padilla: Our Armed Forces Rely On Immigrants, We Must Protect Them From Deportation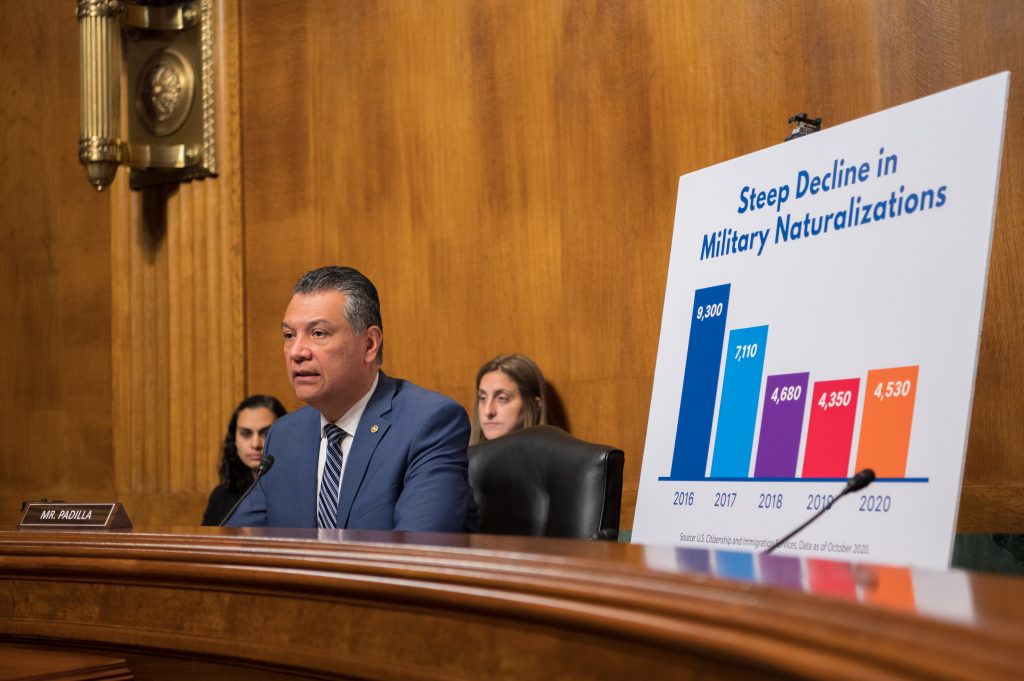 WASHINGTON, D.C. – Today, U.S. Senator Alex Padilla (D-Calif.) chaired the Senate Judiciary Subcommittee on Immigration, Citizenship, and Border Safety for a hearing to examine immigration policies for our military service members and veterans given the steep decline in naturalizations over the past four years under the Trump Administration.
Padilla began the hearing laying out the impact immigrants have on the military, there are approximately 45,000 noncitizen members serving in active duty and more than 700,000 foreign-born veterans. Padilla highlighted the Trump administration's cruel policies that have made it extremely difficult for service members to become citizens.
WATCH: View Video of Padilla's Opening Remarks / Download Video of Padilla's Opening Remarks
Padilla questioned key experts on the critical need for immigration and citizenship policies that protect our veterans and military families, including United States Senator Tammy Duckworth (D-Ill.), Lieutenant Colonel (Retired) of the Army National Guard and Immigration Attorney for Cascadia Cross Border Law Group, LLC Margaret Stock, United States Navy Veteran Deported to Jamaica, Howard Bailey and Nonresident Senior Fellow Carnegie Endowment for International Peace, and former U.S. Ambassador to Afghanistan, Ryan Crocker.
During the hearing, Padilla asked Col. Margaret Stock about naturalization services and resources available to help military service members to become citizens. Stock emphasized that resources are not easily accessible for military members, but wasn't always the case and noted that the system was broken during the Trump administration saying, "it is complete chaos, to put it bluntly." Stock confirmed to Padilla that reinstating programs stripped in 2018 would help solve naturalization process issues.
Padilla went on to ask Mr. Bailey about his experience as a deported veteran. Bailey described the difficulties of having to leave behind his family and the struggles they've dealt with since. Bailey spoke about how much he wants to be reunited with his family after putting his life on the line to defend his country, "if I should get a chance, […] just a chance to come back and be in my kid's life, and bridge that gap, and be a father figure […] I'm just asking for a chance to come home to the country I love, the country I served, the United States of America."
Padilla continued his questioning of Col. Stock, mentioning the negative impacts of deportation on military members in regards to military readiness and asking about military families access to council. Stock said the only remedy for stopping family deportations in a majority of cases is for family members to have access to immigration lawyers.
WATCH: View Video of Padilla's Questioning Round 1 / Download Video of Padilla's Questioning Round 1
WATCH: View Video of Padilla's Questioning Round 2 / Download Video of Padilla's Questioning Round 2
WATCH: View Video of Padilla's Closing Remarks / Download Video of Padilla's Closing Remarks
Key Opening Remarks Excerpts:
Less than one percent of people in the United States choose to serve in the armed forces. Less than one percent. As soldiers, sailors and National Guard members, these brave individuals risk their lives to keep America safe and to secure our position in the world. The choice to serve in uniform is an act of patriotism. And so it should come as no surprise that the military attracts a disproportionate number of immigrants and members of immigrant families.
As the proud son of immigrants myself, I know how brightly the American Dream shines in our families. I know my parents left everything behind to come to the United States to build a better life. My parents always impressed on my brother, my sister, and I the importance of service to others. And today, indeed, all three of us are public servants in different capacities. So while we didn't serve in the armed forces specifically, we certainly do have cousins and now nephews who have and are serving currently.
The critical role of immigrants serving in the military is not reflected in our immigration policy. Changes to the Department of Defense, and the Department of Homeland Security policies under the Trump administration has led to a seventy-two percent decrease in military naturalizations. And you can see that sharp decline in the chart behind me. These restrictive policies undermine Congress's clear intent to provide an expedited naturalization process for military service members and for veterans.
The Trump administration's cruel cutbacks have made it much harder for honorable service members to become citizens. As a result, active duty military members have instead found themselves in deportation proceedings. Thousands of noncitizen veterans now live at risk of losing their lawful status. We must act to repair the damage caused by these policies.
It's hard to imagine the stress of serving in uniform while worrying day in and day out that your parents or spouse might be deported.
We must do so much more as a country for military family members. We must examine the cases of honorably discharged deported veterans and their families and allow them to apply to return home. Members of our armed services and their families deserve a pathway to citizenship that accounts for their service. And there's no question that building that path is a matter of military necessity. Our Armed Forces rely on the bravery, dedication and skills of immigrant recruits.
Key Questioning Excerpts:
PADILLA: For hundreds of years, the United States has recognized the importance and the need for immigrants to be part of our military in 1952. This concept was codified in the Immigration and Nationality Act, the AMA. The AMA has specific provisions dedicated to military naturalizations that waive certain requirements such as residency, and physical presence as well as naturalization and biometric fees that civilians generally have to pay, in addition to military recruiters use naturalization as a way to attract legal permanent residents to join the military. […] Can you tell us what support and resources are currently provided by the US Citizenship and Immigration Services and the Department of Defense to help military service members complete the necessary paperwork for naturalization and process their applications?
STOCK: Unfortunately, Mr. Chairman, right now, it's pretty much a mixed bag. USCIS does a very good job with its website, posting information about the process, and it does allow military members to file applications electronically. Unfortunately, the services do very little at the moment to help out. And most military members, for example, during basic training have no access to the internet, to a printer, to a computer. So it's impossible for them to file an application electronically while they're in training, and they can't access the resources.
PADILLA: Mr. Bailey, I want to thank you for your testimony. It's clearly difficult for you to talk about your deportation and separation from your family. Can you just spend another minute on what your life has been like since returning to Jamaica and how your family was impacted back in the United States when you were forced to leave them? And if you can just spend a brief amount of time telling us what it would mean for you to have your case reopened and reconsidered?
BAILEY: Yes, sir. I left Jamaica when I was pretty young 16, so I really didn't have a life in Jamaica. Being deported here, life has been really, I mean, it's hard to imagine, I came here with nothing, nothing except a pair of jeans, that one that I put on when ICE took me. I had to sleep on the floor. I had nowhere to live. I was just dropped off in a country. […] It's not just me, hard on me. It's on my family. […] If I should get a chance, just chance, this is something that me and my family hoped and prayed for, just a chance. So I could come back and be my kid's life, and bridge that gap and be a father figure. Now, I can't do anything about the past, but I can steer the future. I'm just asking for a chance to come home to the country that I love, the country I served, the United States of America.
PADILLA: Thank you very much. An important part of today's record. Next question. It's estimated that there's currently about 11,800 service members who are serving actively, who have a family member who is facing deportation. This seems dangerous from a military readiness point of view. If service members are distracted or worried that – about the possible deportation of a family member it could negatively impact their focus on their mission. Furthermore, veterans who have honorably – who have served honorably, should not be put through the additional stress and burden of having a family member deported. […] What remedy is currently available to deported family members of military service members and veterans? And, of course, what can Congress do to make sure family members of military service members and veterans are protected from deportation?
STOCK: This is a very complex problem. And the only remedy in most cases is for the family member to somehow get ahold of some expert immigration lawyer to help them. The American Civil Liberties Union and the American Immigration Lawyers Military Assistance Program have been trying to provide help to these family members. Of course, it takes a lot of work and many hours and a lot of experts. Recently, DHS has announced a new policy, where they will allow prosecutorial discretion in cases involving military family members. I mentioned this in my written testimony as well. I applaud the Department of Homeland Security for coming forward with this new guidance. I think it'll go far, but people need an attorney to help them request prosecutorial discretion. And so it's going to be difficult for many people to realize that there's a memo out there and to request this relief.
For additional information on the hearing, click here.
###