Padilla Meets With CA High School Delegates for United States Senate Youth Program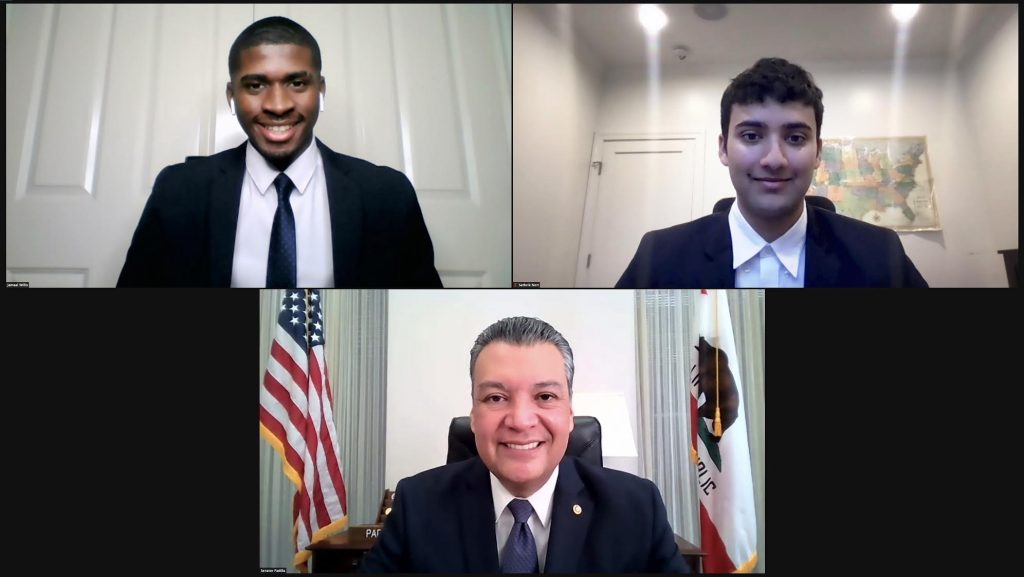 WASHINGTON, D.C. — Today, U.S. Senator Alex Padilla (D-Calif.) met with Sathvik Nori, a senior at Menlo-Atherton High School, and Jamaal Willis, a senior at Barstow High School, the two delegates selected to represent California during the 59th annual United States Senate Youth Program (USSYP) Washington Week. 
"It was an honor to meet with Sathvik and Jamaal and learn more about their outstanding leadership in their communities," said Senator Padilla. "I hope this opportunity to see our government work first-hand instills a lifelong commitment to public service, and I can't wait to see what these bright students accomplish in the years ahead."
Sathvik Nori and Jamaal Willis were selected from among the state's top student leaders to be part of the 104 national student delegation who will each also receive a $10,000 college scholarship for undergraduate study.
Every year this extremely competitive merit-based program brings the most outstanding high school students – two from each state, the District of Columbia and the Department of Defense Education Activity – to Washington, D.C. for an intensive week-long study of the federal government and the people who lead it. Due to the COVID-19 pandemic, the 2021 USSYP will be held virtually. The overall mission of the program is to help instill within each class of USSYP student delegates more profound knowledge of the American political process and a lifelong commitment to public service.
Sathvik Nori, a senior at Menlo-Atherton High School, serves as a Commissioner on the San Mateo County Juvenile Justice Commission. He is a nationally ranked debater and captain of his school's debate team. Actively engaged in his school and community, Sathvik is the student trustee for the Sequoia Union High School District, chair of the San Mateo County YouthCommission, and editor-in-chief for his school newspaper. He advocates for teen awareness and diverse groups to be well-represented in politics and is especially interested in education policy and criminal justice reform. Sathvik hopes to major in public policy or sociology followed by a graduate degree in law.
Jamaal Willis, a senior at Barstow High School, serves as the president of the Student Body and the captain of his school's Mock Trial and Speech and Debate teams. As a first-generation student in his family to go to college, he is a dedicated leader who is committed to excel in any challenge he faces. He has a passion for social justice and desires to protect the rights of others. Jamaal has performed countless community service hours working on racial equity, civil rights, and homeless issues. As an intern for the California State Assembly, he worked to garnish support for AB 1196, legislation that would ban police chokeholds in California. Jamaal plans to double major in political science and international politics and pursue a career as a civil rights or criminal attorney or work as a diplomat, and run for office in the future.
###