Padilla, Mayor Breed Highlight New $386 Million Investment for BART and SFMTA During Tour of Powell Street Station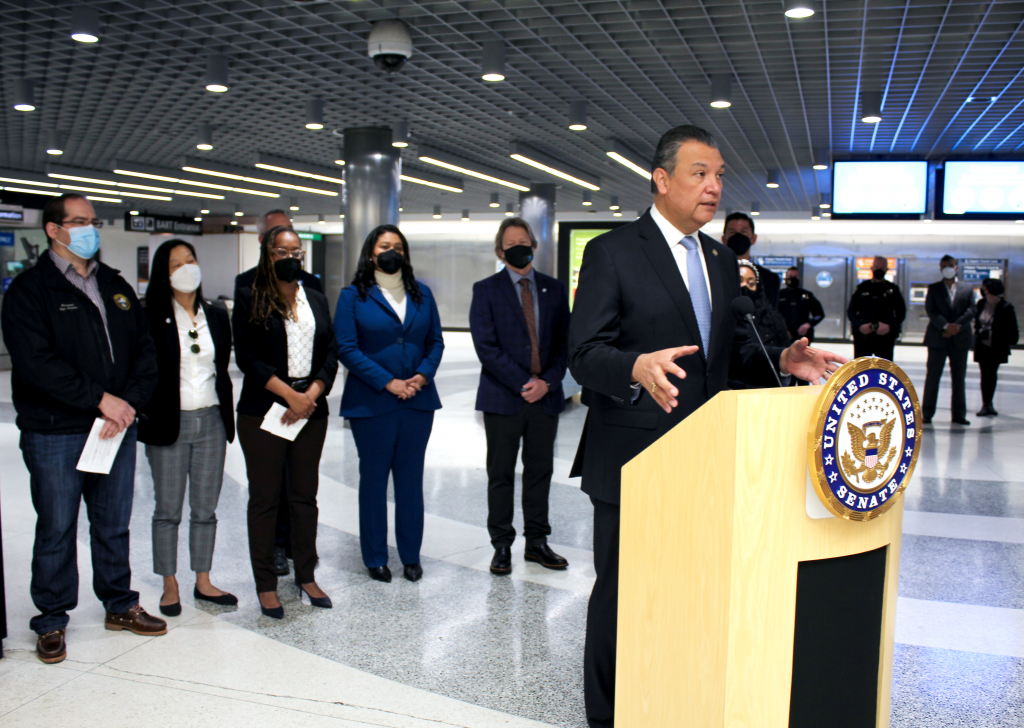 SAN FRANCISCO, CA — Today, U.S. Senator Alex Padilla (D-Calif.) joined San Francisco Mayor London Breed and leaders from the San Francisco Bay Area Rapid Transit (BART) and San Francisco Municipal Transportation Agency (SFMTA) to highlight a new investment of nearly $386 million in additional American Rescue Plan funding for BART and SFMTA operations. To date, the American Rescue Plan has delivered more than $1.6 billion to BART and SFMTA to support their operations and to keep transformational transit projects on track.
During the event, Padilla participated in a tour of the newly re-opened section of BART Powell station and spoke with Transit Ambassadors and Crisis Intervention Specialists.
The event comes as 80 percent of employers in a Bay Area Council survey say they plan to bring workers back to the office this month or already have done so, and as BART experiences a 23 percent increase in ridership at downtown San Francisco stations compared to the previous month. The transformation of Powell St. Station is about 60 percent complete, with a contemporary metallic grid ceiling featuring new energy-efficient lights, a completely rebuilt escalator with a protective canopy at street level, and gender-neutral public restrooms monitored by restroom attendants.
"This transformation of the Powell Street Station is just one example of the hundreds of projects being implemented to meet the transportation needs of Californians across the state," said Senator Alex Padilla. "I'm proud that the funding I helped secure in the American Rescue Plan is continuing to deliver needed upgrades to our state's transportation and infrastructure. Investing in public transit is critical to our economic recovery, and I'll continue working to ensure California has the resources needed to improve the safety and reliability of public transportation."
"Public transportation is critical to the success of our city, and as we continue to emerge from the pandemic, we need to do all that we can to make sure our systems remain safe and efficient," said Mayor London Breed. "This funding brings much-needed financial support that will strengthen our transit systems and restore service that so many San Franciscans rely on. I want to thank Senator Padilla and House Speaker Pelosi for their leadership and work throughout the pandemic to ensure our city receives the support we need."
"This spring, BART has seen its highest ridership numbers since the start of the pandemic," said BART Board Vice President Janice Li. "It's evident that workers are returning to the office and using BART to get there. With support from federal funding, including the bipartisan infrastructure law, BART is safer, cleaner, and more enjoyable to ride than ever. But the improvements won't stop there. Federal support for public transit and infrastructure ensures that BART will continue to grow, adapt, and improve for years to come."
"Our community depends on transit and the high-quality, low-cost service we provide. Due to the leadership of our elected officials and the tireless work of union members, BART has continued to be the vital artery for San Francisco, Alameda and the Bay area counties," said John Arantes, SEIU 1021 BART Chapter President. "Through the efforts of the Biden Administration and Senator Padilla, federal dollars have gone towards maintaining services at BART and preventing mass layoffs, so that frontline workers could continue to work and keep our economy afloat while everyone continued to have access to transit."
"This funding from the American Rescue Plan gives us the funds we need to confidently restore Muni service, and provides us the time we need to secure new funding sources to sustain our recovery," said Jeff Tumlin, SFMTA Director. "Thank you to Senator Padilla, Speaker Pelosi and the Biden-Harris administration for their continued leadership throughout this pandemic and into recovery."
In total, the American Rescue Plan has provided more than $5 billion to ensure access to safe, reliable transit services in California. BART and SFMTA also stand to benefit from the historic bipartisan infrastructure law that Senator Padilla voted for last year.
###