Padilla, Local Leaders Highlight Federal Investments for LA Metro's East San Fernando Valley Light Rail Transit Project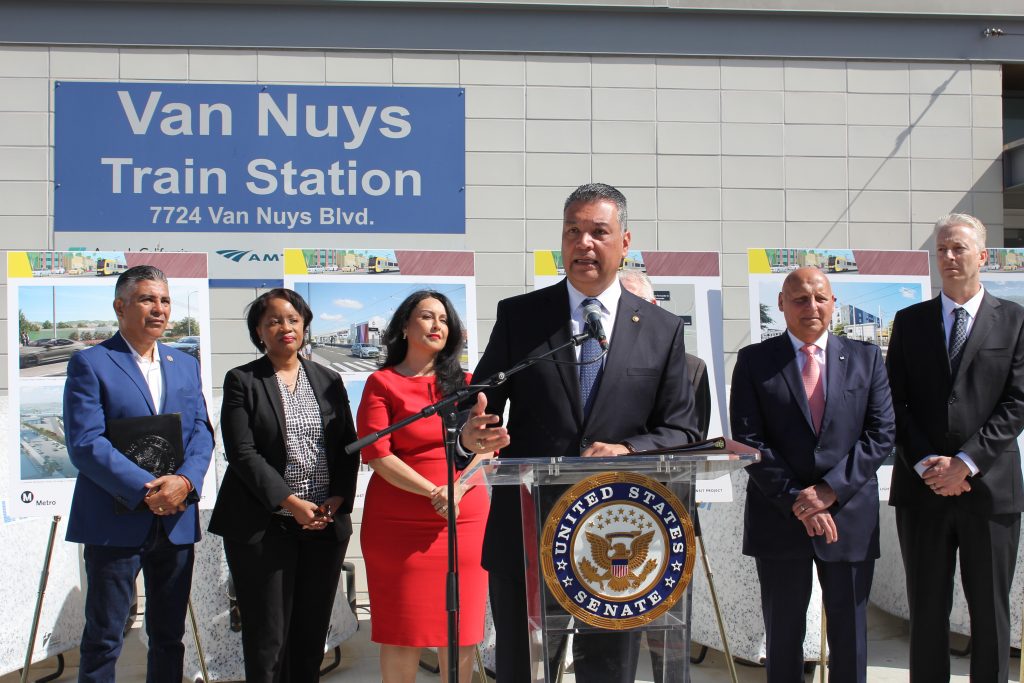 LOS ANGELES, CA — Today, U.S. Senator Alex Padilla (D-Calif.) held a press conference with the Los Angeles County Metropolitan Transportation Authority to highlight federal funding that will help improve local infrastructure and increase connectivity across the region. Padilla was joined at the event by U.S. Representative Tony Cardenas (CA-29), L.A. City Council President Nury Martinez, Los Angeles City Councilmember Paul Krekorian, L.A. Metro Vice Chair Ara Najarian, and Executive Secretary of LA-OC Building & Construction Trades Council Chris Hannan.
During the event, Padilla highlighted the federal funding that he helped secure for projects throughout the area including a $5 million federal investment for the East San Fernando Valley Light Rail Transit Project, and the Biden Administration's proposal to provide $250 million for the project in Fiscal Year 2023 through the Federal Transit Administration's Expedited Project Delivery (EPD) Pilot Program.
"Strong public transit systems are crucial to our local economies and critical to creating opportunities in disadvantaged communities in our state," said Senator Padilla. "It was an honor to be back in my hometown to highlight this local-federal collaboration to deliver expanded access to public transit for the San Fernando Valley. The services offered by public transportation impact how individuals get to work every day and how consumers access local businesses. I am proud to have secured this funding to expand the LA Metro system because efficient and effective public transit means people can get to work and readily access the resources they need."
"When we invest in public transit, we bring opportunities to our community — opportunities to get to work, school, appointments, see loved ones," said Congressman Cárdenas. "I know because I grew up on the side of town where buses rarely reached our neighborhoods, let alone trains. Today, we're one step closer to connecting our friends and neighbors with a train that will finally serve the Northeast San Fernando Valley. Thanks to Senator Padilla, Council President Martinez and Councilmember Krekorian, we're bringing home $5 million in federal dollars to build 14 new Metro stations up and down Van Nuys Blvd. This federal investment will improve transportation equity in our community, connecting folks to their workplaces, local businesses and one another."
"It brings me so much pride to know that three people from Pacoima — children of immigrants — were able to make this project a reality," said Council President Nury Martinez. "People in the Valley have been wanting a train for decades, so this will help other working class immigrant families in the community we grew up in. This is what happens when elected representatives come from the districts they represent."
"Not long ago when the leaders of the San Fernando Valley gathered together to determine the most important transportation priorities of the Valley, Metro had 100 transit stations on rail lines around the County, and exactly two of them were in the San Fernando Valley, a place that's home to 2 million people, 40 percent of the population of the City of Los Angeles," said Los Angeles City Councilmember Paul Krekorian, whose district encompasses the Van Nuys Metro Station. "This is a big step forward for transit in the San Fernando Valley, but it's so much more than that, because Metro is committed to building affordable housing on its properties adjacent to these lines throughout the County," said Krekorian, who is also a Director of the Metro Board. "And most importantly, Metro is committed to local hire, thanks to the work that Senator Padilla and Congressman Cardenas have been championing in Congress to ensure that when we build these lines we give job opportunities and opportunities for small business to flourish as well."
"In his brief time in the U.S. Senate, Senator Padilla has established a well-deserved reputation as a strong and effective advocate in bringing federal transportation dollars back to Los Angeles County," said Metro Board Chair and L.A. County Supervisor Hilda L. Solis, representing the First District. "The fact that he serves on the Senate's powerful Environment and Public Works Committee is a big plus for all transportation stakeholders across the Golden State and especially for us at Metro. Thank you, Senator Padilla, for being such a great champion for the East San Fernando Valley Transit Corridor Project and Metro's broader efforts in Washington, DC."
"Senator Padilla understands firsthand the challenges of commuting across Los Angeles—and so do the 140,000 members of our local unions," said Chris Hannan, Executive Secretary of the Los Angeles/Orange Counties Building and Construction Trades Council. "This new rail line will allow San Fernando Valley residents to access job opportunities connecting to the Metrolink, Orange Line and in coming years along the Sepulveda Corridor into LA's West Side. And, under our industry-leading Project Labor Agreement, it will open the door to a successful, middle-class career for local residents to join the Building Trades."
This press conference took place as many Californians are returning to in-person work, and relying on public transportation more in the coming months than since the start of the COVID-19 pandemic.
Video of the remarks can be found here.
A downloadable version of the remarks can be found here.
###