Padilla Joins DACA Recipients to Urge Action on Permanent Solution for Dreamers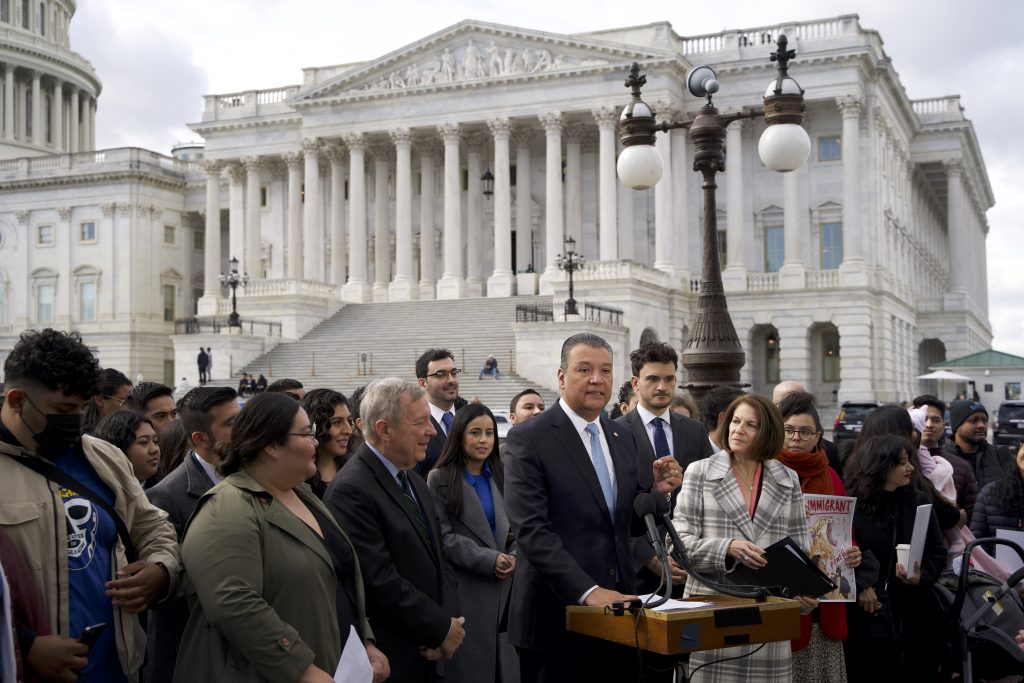 WASHINGTON, D.C. — Today, U.S. Senator Alex Padilla (D-Calif.), Chair of the Senate Judiciary Subcommittee on Immigration, Citizenship, and Border Safety, joined Senate Majority Whip Dick Durbin (D-Ill.), Senate Majority Leader Charles E. Schumer (D-N.Y.), Senator Catherine Cortez Masto (D-Nev.), Senator Bob Menendez (D-N.J.), and directly impacted immigrant youth leaders for a press conference calling on Republicans in Congress to work with Democrats to pass permanent protections for DACA recipients before the end of the year.
Deferred Action for Childhood Arrivals (DACA) has allowed over 830,000 young people to live and work without an immediate fear of detention and deportation. Senate Democrats have repeatedly called for permanent legal protections for DACA recipients. With the program still on the chopping block, the Senators and advocates underscored the urgency for Republicans to step up now and work with Democrats on a bipartisan solution.
Dreamers continue to live with the threat of losing their work permits and deportation protections following the 5th Circuit Court's recent decision on DACA. If Congress doesn't act in the lame duck session this year, the courts could end DACA as soon as next year, and an average of 1,000 DACA recipients would lose their jobs each week—including in labor market sectors already experiencing shortages, especially in healthcare, education, and more.
"For too long, we've seen bad faith arguments and partisan politics delay immigration reform," said Senator Padilla. "In the ten years since DACA was first established, Dreamers have become deeply embedded into the fabric of our communities. Dreamers have helped significantly grow our economy through their entrepreneurship and paying taxes, all while being forced to live in limbo. It's time for my Republican colleagues to come to the table, because failing to act would be to deny them the American Dream. We must pass legislation to provide permanent protections once and for all."
Senator Padilla is a strong advocate and leader for immigration reform. As Chair of the Senate Judiciary Subcommittee on Immigration, Citizenship, and Border Safety, Padilla has led hearings to highlight the urgency of taking action to fix our outdated and broken immigration system. Padilla is an original cosponsor of the U.S. Citizenship Act of 2021, legislation to overhaul the American immigration system, restore fairness and humanity to the system, strengthen families, boost our economy, and open a pathway to citizenship for millions. He also introduced the Citizenship for Essential Workers Act to create a pathway to citizenship for undocumented essential workers, including Dreamers.
A downloadable version of Padilla's remarks are available here.
###