Padilla Hosts Wildfire Response Briefing with CalOES, State Leaders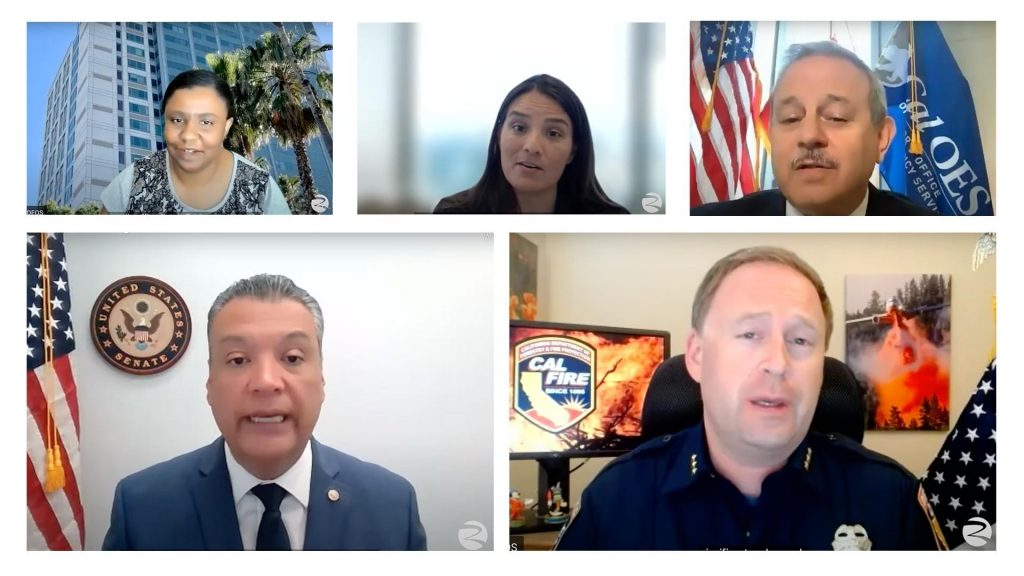 CALIFORNIA — Today, U.S. Senator Alex Padilla (D-Calif.) co-hosted a virtual briefing with the California Office of Emergency Services (Cal OES), California Department of Forestry and Fire Protection (CAL FIRE), California Air Resources Board (CARB), and Region 9 Environmental Protection Agency to highlight state and federal efforts relating to fire preparedness, readiness, and response as we begin this year's fire season.
During the briefing Senator Padilla discussed legislative efforts at the federal level to support fire season response and recovery. Other officials also discussed the wholistic efforts being made to prepare as the fire season gets underway this year.
With more than 4.6 million properties or about 40 percent of California at "moderate" risk of burning in the next 30 years, according to First Street Foundation, Senator Padilla has made addressing the increased threat of wildfires a priority in the Senate by pursuing efforts to improve federal response. In 2021, California experienced more than 8,000 fire incidents, more than 2.5 million acres burned, and more than 3,500 structures were damaged or destroyed.
"As we begin another high-risk fire season, I'm working with federal and state officials to improve our wildfire response at every stage," said Senator Padilla. "California has stepped up to increase our mitigation, preparedness, and suppression capabilities, and I'm proud of the $3.4 billion we secured in the Bipartisan Infrastructure Law to reduce wildfire risk. Wildfires call for a whole-of-government approach and we must act now to prevent and prepare for these natural disasters."
"Senator Padilla's legislation is a critical next-step in protecting our communities. The climate-driven disasters that threaten our state are increasingly growing larger and more complex each year. It is essential that we continue to lean forward and evolve our tactics and approach at both the state and federal level," said Mark Ghilarducci, Cal OES Director.
"It is imperative that we prioritize giving people information to reduce exposure to wildfire smoke," said Regional Administrator Martha Guzman. "We especially need to reach out to our most vulnerable populations, including those who can't stay indoors due to work, or those who are not able to buy air filters or have effective HVAC systems. It is critical that we get this right to minimize the impacts of wildfire smoke."
"Drought conditions and dry weather have already increased fire danger across the State," said Chief Daniel Berlant, CAL FIRE Deputy Director of Community Wildfire Preparedness and Mitigation. "It is critical that all Californians take preparedness steps now to enhance their Defensible Space and Home Hardening efforts, while ensuring they use the right tool at the right time to avoid accidently sparking a wildfire while working around their home."
"Wildfire smoke is a public health crisis and an environmental justice issue as many of the communities impacted by wildfire smoke are California's most vulnerable," said Chanell Fletcher, California Air Resources Board, Deputy Executive Officer. "We also know that climate change continues to exacerbate wildfires so it is essential that we continue to work with communities and agencies to address wildfires, protect the public from the smoke-related impacts from these fires, and redouble our efforts to make our forests more resilient, and reduce greenhouse emissions."
Most recently, Padilla introduced a slate of bills to support efforts in California and across the country put fires out faster and better protect communities from post-fire flooding. Padilla also helped secure $3.4 billion for wildfire risk reduction through the bipartisan Infrastructure Investment and Jobs Act that was signed by the President last year.
A downloadable version of the press conference can be found here.
###