Padilla, Feinstein Introduce Resolution Calling for the Release of Eyvin Hernandez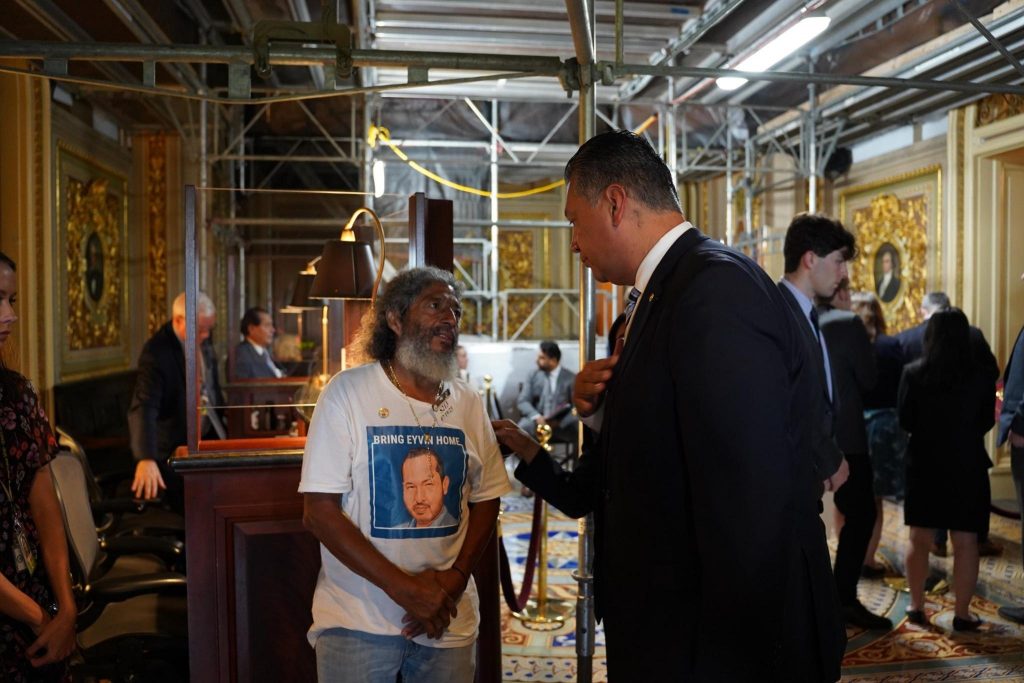 Padilla meets with Pedro Martinez, father of Eyvin Hernandez
WASHINGTON, D.C. — Today, U.S. Senators Alex Padilla and Dianne Feinstein (both D-Calif.) introduced a resolution calling for the immediate release of Eyvin Hernandez, a Los Angeles County public defender and UCLA School of Law alumnus, who was wrongfully detained in Venezuela on March 31, 2022. A companion resolution has been introduced in the U.S. House of Representatives by Reps. Sydney Kamlager-Dove (D-Calif.-37), Young Kim (R-Calif.-40), Joaquin Castro (D-Texas-20), and Nanette Barragán (D-Calif.-44).
Eyvin is a dedicated public servant and a deeply beloved member of his community known for his devotion to justice, respect for humanity, and willingness to help others. For over a year, he has been unjustly imprisoned in Venezuela, and his detainment has been heart-wrenching for his family, friends, and loved ones. The State Department's Special Presidential Envoy for Hostage Affairs (SPEHA) has been working to secure his release.
Padilla recently met with Eyvin's father, Pedro Martinez, to discuss his son's imprisonment. Padilla is also in regular communication with SPEHA about Eyvin's case.
"As a public defender, Eyvin Hernandez has dedicated his life to helping those in need in his community and beyond," said Senator Padilla. "His ongoing wrongful detainment has devastated his loved ones, and we owe it to Eyvin to do everything in our power to bring him home. Today's resolution demonstrates our unified condemnation of the Venezuelan regime's unacceptable imprisonment of Eyvin and calls on senior U.S. officials to continue working to secure his immediate release."
"It's unacceptable that the Venezuelan government has detained Eyvin Hernandez for more than a year on baseless charges and refuses to allow him to return to the United States. Our resolution calls for his immediate release so he can return his family, friends and his job serving the people of Los Angeles as a public defender," said Senator Feinstein.
"Eyvin Hernandez represents the best of our District. He has touched countless lives through his work as a public defender, mentorship of aspiring law students, volunteer work as a juvenile justice advocate, and leadership of his local union. The positive impact he has made in our community cannot be overstated. His impact has galvanized a coalition of his loved ones to advocate on his behalf and ensure he is not forgotten," said Representative Kamlager-Dove. "I stand in solidarity with Eyvin and the Los Angeles County community and call on the Administration to do whatever is required to secure Eyvin's freedom. Every day that passes without Eyvin is pain that his loved ones should have never had to endure. I will always keep fighting to bring Eyvin home."
"It has been more than 15 months since my son, Eyvin, has been wrongfully detained by the Venezuelan regime. My heart breaks every day because of the injustice of his captivity, and the suffering it causes," said Pedro Martinez, Eyvin's father. "President Biden holds the key to my son's release. I ask him to meet with me and Eyvin's friends while we are in Washington, D.C. I have made this request to the President many times before, but there has been no offer of a meeting with him. It makes me sad and mad."
Full text of the resolution is available here.

###