Padilla Calls on Congress to Step Up Efforts to Protect Election Workers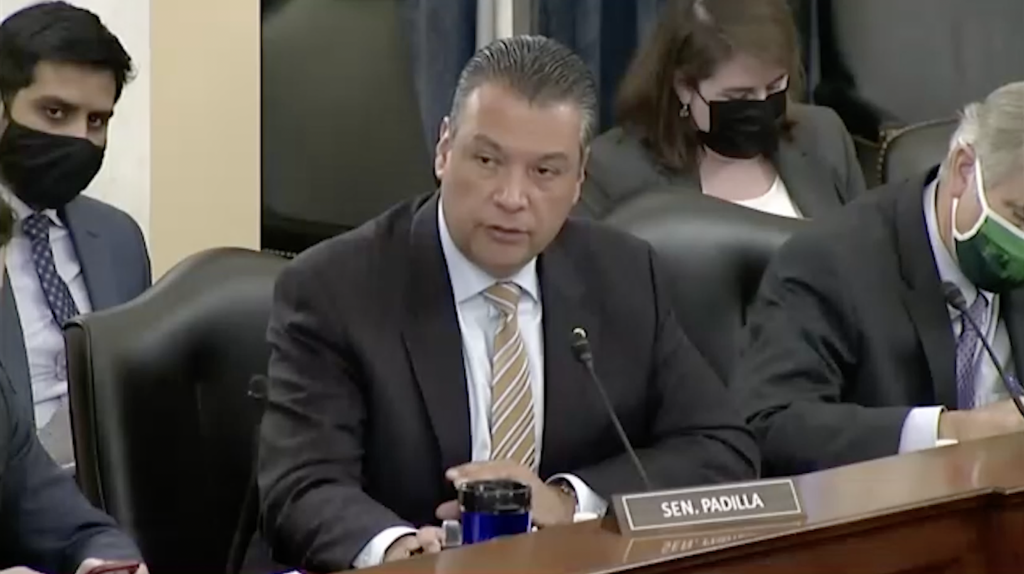 WASHINGTON, D.C. — Today, U.S. Senator Alex Padilla (D-Calif.), a member of the Committee on Rules and Administration with oversight over federal elections and California's former Secretary of State, emphasized the importance of protecting election officials and workers in a hearing entitled "Emerging Threats to Election Administration."
The hearing featured testimony from a panel of witnesses including Katie Hobbs, Arizona Secretary of State; Wade Henderson, President of the Leadership Conference on Civil and Human Rights; Al Schmidt, Philadelphia City Commissioner and Board of Elections member; Matt Masterson, Stanford University Non-Resident Fellow of the Internet Observatory; and Michael Adams, Kentucky Secretary of State.
WATCH: View Video of Padilla's Questioning
During the hearing, Padilla lauded the hard work and dedication of election workers and volunteers who helped maintain the integrity of the 2020 election. Padilla questioned witnesses about the long-term consequences of election misinformation and the dangers of Republican-driven sham audits, and how threats to election workers could impact recruitment for election workers and volunteers in future elections.
In the Senate, Padilla has leaned on his expertise as California's former chief elections officer to help advance voting rights legislation, including leading as an original cosponsor of the Freedom to Vote Act which would improve access to the ballot for Americans, advance commonsense election integrity reforms, and protect our democracy from relentless attacks. Padilla is also a cosponsor of the Protecting Election Administration from Interference Act, which would expand protections for election administrators, strengthen protections for Federal election records and election infrastructure, and provide judicial review for election records.
A full transcript of the exchange is available below:
PADILLA: Thank you, Madam Chair. Colleagues, as most of you know, before I joined the Senate, I served as California's chief elections officer for six years. And in that time, I recall proudly working with so many local election administrators up and down the state of California, as well as with my colleagues from states around the country, with the shared objective of making sure our elections were as safe, as secure and as accessible as possible.
In California, I believe we succeeded in meeting that goal and that is in no small part due to the hard work, dedication, and absolute professionalism of our local election workers, as well. These dedicated Americans are indispensable to the strength of our democracy. And it's because of that experience that it's been so deeply and personally troubling for me to hear story after story of election workers who now fear, simply going to work—who are afraid that their non-partisan work to help Americans exercise their right to vote, and that their votes be fairly counted, will make them the subject of threats of violence, or worse.
Election workers deserve better. And this Congress owes them better and I hope that we, working together, can deliver that.
Question for Ms. Hobbs, Secretary Hobbs. Beyond the recruitment of qualified full-time election workers, as you know, successful elections also rely on the army of temporary workers, poll workers by another name, to help staff the polls to guide voters and perform date-of-election tasks like checking voters in, checking registration status, providing ballots, etc. Are you concerned that these ongoing threats to temporary election workers as well, may also affect the administration of elections, including so many to choose to not volunteer or be reluctant to volunteer?
HOBBS: That's certainly a concern we have in Arizona. You know, people stepped up in 2020 to fulfill this role in record numbers. And we're going to continue to try those recruitment efforts. And I hope that people will be engaged in that way. But I think that what folks have seen in the aftermath of the 2020 election is certainly going to put a chilling effect on that.
PADILLA: Thank you. And I think on a related front, we know that the presidential election of 2020 was a fair election. Period. Joseph Biden was elected president United States. Period, Donald Trump lost. Period. Those are three factual statements.
But even today, more than nine months after President Biden was sworn in, there are still many in the Republican Party, who are unwilling to acknowledge these basic facts. Instead, a right-wing ecosystem of misinformation and disinformation continues to perpetuate the big lie that the election was stolen. And so many Republicans refuse to speak up against it.
This question is for Mr. Masterson, Mr. Masterson, what's the long-term consequence of these types of misinformation and disinformation campaigns, including how they relate to the security of future elections or voter confidence in elections?
MASTERSON: Thank you, Senator Padilla. It's good to see you.
The long-term consequences start with the erosion of trust and doubt and deception around our democratic institutions. The reality is, is that if our voters do not trust or believe the results of our elections, our democracy is unhealthy, and, you know, struggling to succeed. And the reality is, that has implications as we've talked about today, for the security of those who work in elections. It has implications for America on the national stage, and the health of our ability to work with and support emerging democracies across the world. And it impacts us civically, and all kinds of ways where truth and facts not just around our democracy, but around any area of life begin to fall by the wayside. And we've seen that certainly around COVID in the COVID vaccine, as our information ecosystem continues to suffer.
PADILLA: Yeah. And last year's Census count as well, as we recall experiencing.
Madam Chair, I want to make sure I have the opportunity to finish my next question, because this is the former Secretary of State in me shining through. We know that professional post-election audits based on proven standards and methodologies are an important tool for ensuring the accuracy and the integrity of election results while building voter confidence. I know such audits are a standard part of the election certification process, not just in California, but in states across the country.
But these audits stand in stark contrast to the type of sham audits that was called for this year by the Republican state legislature in Arizona, and is being considered by the Republican state legislature in Pennsylvania. So, Secretary Hobbs and Commissioner Schmidt, can you describe how these Republican driven sham audits, my words, not yours differ, technically, from the professional standard driven audits that are required in many jurisdictions, and how they too might impact voter confidence?
HOBBS: Senator Padilla, I don't know that there's enough time left in the day to do that. I will just say that, in Arizona, their results were canvassed, certified, litigated and legitimately audited, according to the law. And what we saw in the sham audit was absolutely not a real audit. It detracted from transparency, there was no transparency, there are lapses in security. Every other professional auditing standard that you would see in place was just not there. And overseen by people with an entirely partisan agenda.
PADILLA: Thank you. Mr. Schmidt?
SCHMIDT: As a former senior auditor at GAO, I believe strongly in the importance of audits, when they're legitimate. And when they're real, when they're carried out by qualified people who know something about auditing and something about elections. That is not what we've seen to date. In Pennsylvania, every county in the Commonwealth conducts an audit, after each election, in most counties, including ours. We conduct a secondary audit that's even more comprehensive, on top of that. And the nexus between your question, the audits, or the so-called audits, and the threat issue…I know, in my experience and in many others, the threats died down after election day, after the new President was sworn in.
Now that the legislature's talking about instituting some sort of a bogus audit in the Commonwealth of Pennsylvania, they return. So, this level of activity rises and falls, it spikes and decreases whenever there's sort of this comprehensive misinformation and disinformation effort both around election time and now run audits as well.
PADILLA: Thank you both and let alone, from what I understand in Arizona, what otherwise would be unauthorized access to the actual voting systems themselves and what that portends for future elections. So, Secretary Hobbs as you said, we don't have enough time in the day. Thank you, Madam Chair.
###