Padilla Calls for Fair Treatment of Loyal PGA Players and PGA Employees at Committee Hearing on PGA-LIV Deal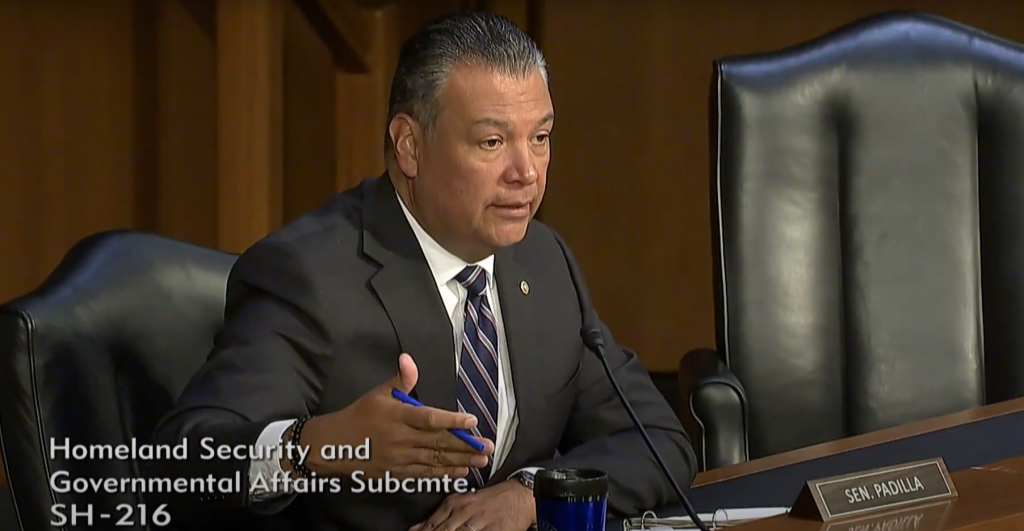 WATCH: Padilla questions PGA executives
Padilla Calls for Fair Treatment of Loyal PGA Players and PGA Employees at Committee Hearing on PGA-LIV Deal
WASHINGTON, D.C. — Today, U.S. Senator Alex Padilla (D-Calif.) joined a hearing of the Senate Permanent Subcommittee on Investigations titled "The PGA-LIV Deal: Implications for the Future of Golf and Saudi Arabia's Influence in the United States" to question witnesses on whether the PGA Tour will make amends to the players who remained loyal to PGA prior to its deal with LIV, and to raise workers' rights concerns with regard to the new framework agreement between the PGA Tour and the Saudi-backed LIV Golf league. During the hearing, Padilla questioned PGA Tour Board Member Jimmy Dunne and PGA Tour Chief Operating Officer Ron Price.
Padilla began his remarks by questioning whether PGA would make amends to the players who forwent significant financial benefits to remain loyal to PGA before PGA hypocritically reversed its position on LIV. He asked Mr. Dunne to explain if those players would be made whole, including whether they would be eligible for damages. Mr. Dunne responded that he intended to move forward with an agreement that has the players' full support. Mr. Price also addressed the question by sharing that PGA has established a task force which is evaluating ways to recognize the players who remained loyal to PGA.
Padilla concluded by raising concerns about the fact that LIV Golf technicians are now amongst the few employees in major sports who did not receive health and retirement benefits after LIV switched to a non-union production company at the start of the 2023 season. Padilla stated that he would follow-up on that concern.
Key Excerpts:
PADILLA: I don't hear a lot of conversation about the players. Because it's the players' performance that drives the game. It's the players' performance that drives the fan base. It's the players' performance that drives the revenues. So I want to take a moment to focus on the players and the need to do right by them so this agreement actually be concluded. As we all know, prior to the framework that was announced the PGA Tour's officials were highly critical of LIV and those who chose to join LIV. In fact, I understand that the PGA Tour suspended at least 24 players who participated in LIV events and declared them ineligible to participate in PGA Tour tournaments. Of course, PGA officials then turned around and did exactly the same thing they criticized some players for, leaving those players who chose to remain loyal to the PGA and forego to significant financial benefits of joining LIV, understandably wondering what was the point of remaining loyal to the PGA? So Mr. Dunne, can you tell me how will players who remained loyal to the PGA be made whole? Will they be eligible for some form of damages? And it's not just the foregone income that was a real pain, but their reputations even taken a hit. Can you explain to me how players are going to be made good should this agreement go through?
DUNNE: It's really, I'll answer, but [Mr. Price] is really doing the negotiation. But thank you for your question, Senator. Nothing will happen without the players fully support. We have five player representatives on the Tour policy board. I can't imagine the circumstance where I won't be voting with the majority of them.
PRICE: Senator, we've got two task forces in place now. And we're working with our player directors because we're a membership organization. That's who we represent. And the first task force is evaluating ways in which we can recognize the players who remain loyal to the PGA Tour. That's very important to us. We will not move forward with a definitive agreement unless we get that right. And our players support that.
PADILLA: We'll be watching. The second, Mr. Chairman, and instead of asking an additional question, I'll just state a concern for the record and we'll follow up in future conversations here. But during the 2023 season, LIV golf pulled a bait and switch, from what I understand, on its television broadcast technicians, who are represented by the International Alliance of Theatrical Stage Employees when they switched to a non-union production company and making the technicians behind LIV golf's production some of the few in major sports who do not receive any health and retirement benefits while providing coverage. So while my first question was about the players specifically, please know I'm interested in the treatment and fairness of all employees that make golf revenues, including but not limited to significant broadcast revenues, possible, not just as players, but in the broadcast to production, etc. So, yet another area that we'll be following up on. Thank you, Mr. Chair.
More information about the hearing is available here.
###