Padilla Calls for Binding Ethics Reforms for the Supreme Court in Judiciary Committee Hearing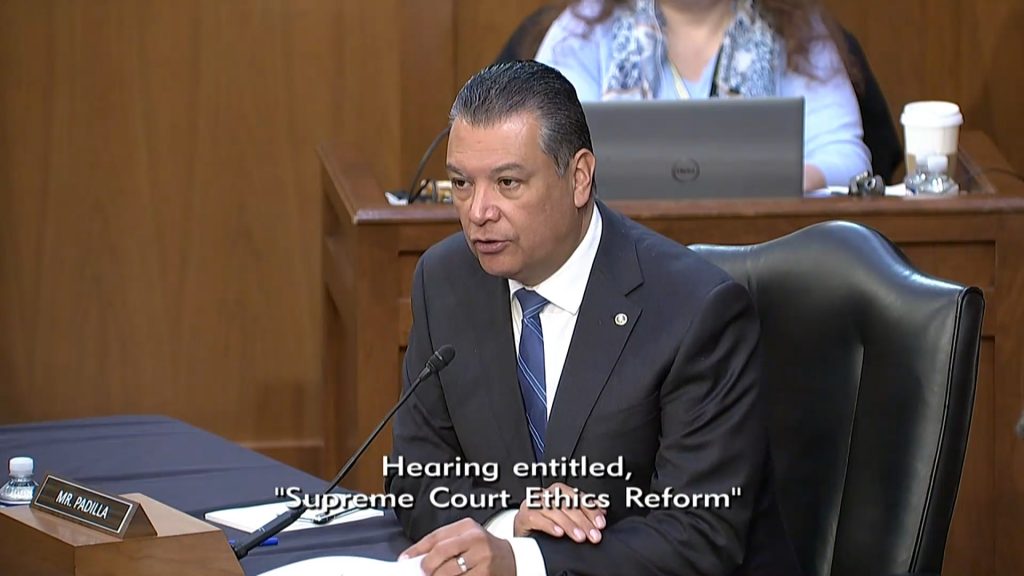 WASHINGTON, D.C. — Today, U.S. Senator Alex Padilla (D-Calif.) joined a hearing of the Senate Judiciary Committee to question witnesses on judicial ethics and reforms needed in order to restore public confidence in the Supreme Court. During the hearing, Padilla questioned Amanda Frost, John A. Ewald Jr. Research Professor of Law at the University of Virginia School of Law; and Kedric Payne, Deputy General Counsel & Senior Director of Ethics at Campaign Legal Center. Ahead of the hearing, Padilla joined a press conference with advocacy groups to demand immediate enforceable ethics reforms within the Supreme Court.
During the hearing, Padilla stated that, in addition to actual acts of corruption, the appearance of impropriety itself weakens the faith Americans have in our judicial institutions. Padilla cited Mike Luttig, a former federal Judge and advisor to former Vice President Mike Pence, on his remarks about how we cannot allow this to become a partisan political issue. He then asked Professor Frost to explain the impact of judges' acting in an ethically questionable manner and the impact it has on public faith in the courts. Frost responded by saying that when justices break the law, it undermines the integrity of the Court and raises the question of whether the justice is following the law in other cases. She also highlighted the negative impacts to the legitimacy of the court even with just the appearance of impropriety.
Padilla then asked about the common argument that the Supreme Court cannot be subject to recusal rules because it would invite gamesmanship over which justices hear individual cases. Mr. Payne explained that Justices do not always make decisions together and that recusal doesn't necessarily mean that a judge has to be off the case all together.
In a last question, Padilla spoke about Justice Thomas and Harlan Crow's improper relationship and how there is no indication that the Justice recused himself in a matter related to one of Crow's businesses. He asked Professor Frost how this matter impacts public faith in the Courts and Frost explained that the main impact is that there is public perception that there's a financial interest being exploited and that Justices should follow the laws that apply to them.
Key Excerpts:
PADILLA: There's very serious concern of actual corruption in the absence of strictly enforced rigorous ethical standards for our judges. But as the Buckley opinion made clear, there's also a serious concern that public trust in our highest court is damaged even by the appearance of impropriety, weakening the faith in our judicial institutions as a whole. Now, what's more, as a former federal judge and advisor to Vice President Mike Pence—speaking about Mike Luttig here—he said in a statement to this committee, not some far left or whatever tagline some of my Republican colleagues want to assign to Mr. Luttig, he said, "in fact, this is emphatically not a partisan political issue, and must not become one," and I agree, this is an issue of importance to all Americans. But first question is this and I'll just get to Professor Frost, can you explain the effect of when judges take actions that call into question their own ethical standards? And how that impacts public faith in the courts?
FROST: First, when the law is binding on the justice, and the justice does not follow it, I think it both undermines the integrity of the court system, and also raises the question of whether the justice is following the law and all the other cases […] And second,…I think it's very important for judges and justices to be aware that even if they are doing nothing personally wrong, they're not trying to be bribed, if they create the appearance of that to others, that is a problem for the legitimacy of the judiciary.
PADILLA: The Chief Justice, along with some of today's witnesses, argued that the Supreme Court cannot be subject to sensible, robust recusal rules because the Constitution demands that all nine sit and recusal would invite gamesmanship over which justices might hear a case that's an argument anyway, I'll address this question to Mr. Payne. Is it accurate that nine justices always make decisions together?
PAYNE: No, sometimes justices recuse, and all nine are not active on a case, but also I point out the important point, that recusal does not necessarily mean that the judge has to get off of a case if you have a procedure where the recusal disclosure—that is the rationale for not recusing—is made public, or the decision to recuse is made public, that also can provide what the public is looking for with transparency.
PADILLA: Bloomberg recently reported that Harlan Crow, the billionaire Republican donor that gave Justice Thomas hundreds of thousands of dollars' worth of gifts and travel over two decades, had a financial interest in the case appeal to the Supreme Court in 2005. And that there's no indication that Justice Thomas recused himself from that matter. In your opinion, how does the situation such as this with absence of recusal impact the public's faith and trust in the court system?
FROST: One, there's the possibility or certainly the public would be reasonable to to think that there might be bias when there's a financial interest by a justice in a case of that justices hearing. And second there's the broader point of it's just disturbing to see any justice not follow a law that applies to them.
Padilla is a cosponsor of the Supreme Court Ethics, Recusal, and Transparency (SCERT) Act, which would create a process for investigating misconduct at the Supreme Court, strengthen recusal standards for judges and disclosure rules for special interests trying to influence the courts, improve disclosure of travel and hospitality for judges, and mandate the creation of a binding code of ethics. He also previously cosponsored the Supreme Court Review Act, which would strengthen Congress's ability to legislate in response to Supreme Court decisions that roll back constitutional rights. Padilla has called on Chief Justice John Roberts on multiple occasions to investigate Justice Clarence Thomas's failure to disclose receipt of 20 years' worth of lavish gifts and luxury travel as well as conflicts of interest related to Ginni Thomas's attempt to overturn the results of the 2020 election.
###