ICYMI: Padilla: The Fight For Voting Rights Is Not Over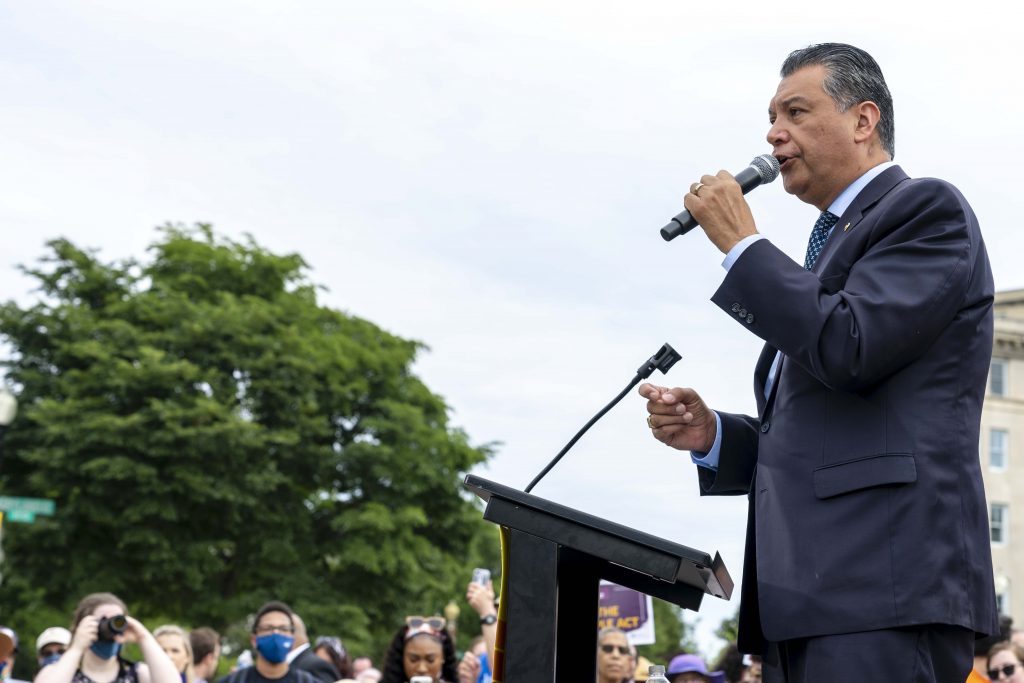 WASHINGTON, D.C. – Since taking his oath of office, U.S. Senator Alex Padilla (D-Calif) has been a strong proponent of the democracy reforms included in S. 1, theFor the People Act. As former California Secretary of State who oversaw the implementation of automatic voter registration and same-day registration in the most populous state of the nation, Padilla knows first-hand the importance of implementing the key voting reforms contained in S.1.
Prior to yesterday's failed vote to begin debate on the For the People Act, Padilla had been a part of a series of discussions to secure the votes of all fifty Democratic Senators to debate an elections reform bill. Padilla is now forcefully calling out Senate Republicans for their failure to even debate access to the ballot as Republican legislatures have introduced and passed voter suppression bills across the country at a rapid pace.
Key Coverage of Padilla on the For the People Act:
PBS NewsHour: Democrats 'another step closer' to reforming filibuster, Sen. Padilla says
Padilla: So, the first thing I would say is, let's speak the truth. With the passage of S.1, what we're hoping to establish is a baseline of voter protections and access to the ballot for all eligible voters in America. What the Republicans are trying to suggest, that this is a federal takeover of elections, it's not true. It'll still be state and local governments that are responsible for administering the elections.
Padilla: The fact of the matter is, this is not about Democrat vs. Republican. This is about voting rights. Any eligible voter in America should be able to easily register, stay registered to vote, not be purged, and be able to cast their ballot. One of the reasons I'm so passionate about this is because, for the prior six years, as you mentioned, I served as California secretary of state.
MSNBC The Last Word with Lawrence O'Donnell: Sen. Padilla: GOP 'scared of a debate' on voting rights bill
Padilla: The American people saw what party stands up for fundamental voting rights for all Americans and one is scared of a debate. What are they scared of? And the reason I say it's not shocking, look how the year started. With a deadly insurrection of January 6th, and just a few weeks ago, by not supporting an independent bipartisan commission to get to the root cause of that, Republicans clearly walked away from the notion of a peaceful transition of power and now they're walking away from our fundamental right to vote, so yes, our democracy is on the line.
NBC San Diego: Sen. Alex Padilla Reacts to Failure of Voting Rights Bill
Padilla: The bedrock of our democracy is too important and I've had it with the hypocrisy. You know, they began the year saying the 2020 election was successful, there's no need to change our laws, yet, they refuse to condemn the voter suppression laws that are being introduced in states around the country and are being passed.
Padilla: The reforms called for in the For the People Act are not just good ideas that we hope work, we know they are proven to work. Automatic registration, same-day registration, vote by mail, in person early voting and more has in California created the most inclusive democracy of any state in the nation.
NowThis: 'Americans marched, fought, and died to secure their right to vote' — Sen. Alex Padilla breaks down why America needs a renewed Voting Rights Act
Padilla: We need a renewed Voting Rights Act to help prevent to help prevent future voter suppression efforts of this kind. But a lot of damage has already been done, both in jurisdictions that were previously covered by the Voting Rights Act, as well as jurisdictions that weren't. That's why we need the For the People Act, which would set a federal baseline of voting rights in every state, so that across the country, voters have equal opportunity to participate in their democracy.
Padilla: To protect our democracy nationwide, Congress needs act now. We need to pass the For the People Act to reverse the attacks on voting rights that continue in states across the country. […] Our democracy depends on it.
Vice News Tonight: What's Next for Voting Rights in Congress
Padilla: Look, clearly the Senate is not moving fast enough. That's how we ended up with the January 6th insurrection, the deadly insurrection. Let's remember how that happened. It was based on the Big Lie. Donald Trump's lies and conspiracy theories about election integrity. So, my Republican colleagues clearly are not standing up for a peaceful transfer of power. Now, they're not even standing up for a discussion or debate on our fundamental right to vote.
MSNBC Hallie Jackson Reports: "We're going to keep up the fight"
Padilla: We're going to keep up the fight. Was yesterday disappointing? Of course. Was it shocking? Of course not. And is this fight over? Absolutely not.
###